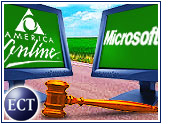 AOL Time Warner and Microsoft have agreed to a far-reaching settlement in which the software giant will pay US$750 million to AOL to dispose of allegations it acted unfairly to monopolize the Web browser market.
The settlement brings an end to the browser wars that began eight years ago when Microsoft set its Internet Explorer (IE) browser on a path to total market dominance. The company landed in court early last year when AOL, which bought Netscape for about $4.2 billion in 1999, filed suit. More than 95 percent of personal computers now use IE.
The deal clears the way for the two companies to work together on several fronts, including delivery of entertainment media online and instant messaging technology.
"We have some shared goals in how we can evolve the digital media market," said Microsoft chairman Bill Gates, who reportedly initiated settlement talks with new AOL chairman and CEO Richard Parsons. "The agreement we've reached marks a new phase of relationships between Microsoft and AOL Time Warner."
Clear Channel
Analysts speculated that the departure of AOL founder Steve Case, who resigned in May from the chairman's seat at AOL Time Warner, made the deal possible. "A lot's changed in the last year in the marketplace and for both of our companies," Gates added.
For his part, Parsons said he hopes others will get behind the two formidable forces. "We look forward to others in the media and entertainment industries joining together with us to help to advance the digital distribution of content to consumers while maintaining copyright protection," he said.
Perks Aplenty
The agreement gives AOL the right to license Microsoft's Internet Explorer browser for seven years at no cost. Microsoft also will distribute America Online software discs with Windows software shipped to PC makers, while AOL will use Microsoft's Windows Media 9 Series platform to enable its users to access online content.
Although the companies pledged to work together to find a way for their proprietary instant messaging platforms to communicate with one another, analysts were quick to point out that similar promises have been made in the past, only to have negotiations break down. AOL commands a lion's share of the IM market, but Microsoft is making inroads with a new enterprise offering.
Who Wins?
Analysts say the settlement may be a true win-win situation, with both sides gaining in the short and long terms. Investors apparently agreed, with both companies enjoying solid stock price gains in early trading Friday.
For AOL, the cash infusion will be a boon, as it has pledged to spend much of this year reducing its massive debt load. For Microsoft, the settlement clears away another in a series of nagging legal problems without putting much of a dent in its $40 billion-plus cash stockpile.
"Anytime they can get something off the table for relatively short money, they're probably going to grab it," Forrester analyst Rob Enderle told the E-Commerce Times, citing earlier settlement agreements that ended class-action consumer suits. "The fact that this deal has some long-range upside for the company only makes it more appealing."
Indeed, over the long term, Microsoft gains a powerful entertainment and media ally in its push to make its software the standard by which media is delivered to personal computers, mobile devices and television sets. The fact that AOL may use Windows 9 Media Player will not be lost on competitors like RealNetworks.
Not Done Yet
The settlement still leaves some private antitrust lawsuits pending, including a high-profile claim by Sun Microsystems, in addition to lingering regulatory action by a few states that refused to sign a U.S. Department of Justice settlement of charges that Microsoft acted monopolistically.
European regulators continue to mull how to handle the software giant's market dominance and protect both consumers and small, native software firms.