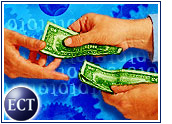 Microsoft will stop granting employees options to buy company stock — a benefit that helped make thousands of tech workers wealthy during the dot-com boom but has fallen out of favor more recently. The company is instead moving to a plan that will grant employees actual shares.
Since its founding in 1975, Microsoft has been a pioneer among technology firms in using generous options grants to attract top talent, but CEO Steve Ballmer said the company feels the current move better aligns the interests of its 50,000-plus employees and those of its shareholders and customers.
Often credited with creating at least 1,000 millionaires on the strength of its stock since it rose to dominate the software industry in the 1980s, Microsoft — like many tech firms — saw its options become far less valuable in recent years. Many grants made during the late 1990s or in 2000 remain underwater, with the option price above the actual trading price, making the options all but worthless.
The result was a lot of "angst and anxiety among employees," Ballmer said in a conference call, adding that a survey of its workforce found the stock issue to be the number one complaint about the company's compensation package, which typically has been considered among the top tier in the tech industry. "Angst is not good for a company," he said.
Beating the Punch
Some analysts saw the move as a way of being ahead of the curve should a recommendation come from the Financial Accounting Standards Board to require companies to expense options.
While the company did not disclose the impact on its bottom line for this year, it previously estimated that 2002 earnings would have been cut from US$7.8 billion to $5.3 billion if it accounted for all options granted that year.
The number of companies resisting the call to expense options has shrunk recently. Last year, Amazon.com and Computer Associates were among the first to announce they would begin to expense the options they grant.
But others, including such tech bellwethers as Cisco Systems and Intel, have stood their ground, saying the current practice of granting options without treating them as an expense gives them the flexibility they need to attract top-flight talent.
Paper Leader
Microsoft was quick to indicate it was not making a statement about what other technology companies should do with options. "We agree with others in our industry that there's no one-size-fits-all approach," Microsoft CFO John Connors said in a statement. "Every company has a unique set of circumstances, and this is the appropriate accounting treatment for our new compensation plan."
But although Microsoft generally does not seek a leadership role on such controversial issues — given that the company is not on the best terms with many other companies in the industry — its decisions do resonate because of its sheer size and high profile, said Forrester Research analyst Rob Enderle said.
"When Microsoft makes a major change in the way it does business, people do pay attention," he said. "Other companies recognize that whether you agree or disagree with them, Microsoft has made a lot of smart moves over the years."
No Stock for You
As part of the change, which Microsoft said it studied for more than a year and which takes effect in September 2003, Microsoft's senior management also will have some of its stock awards tied to "growth in the number and satisfaction of Microsoft customers." Neither Ballmer nor chairman and chief software architect Bill Gates will receive stock awards.
Employees now will earn actual shares of Microsoft stock instead of the right to purchase those shares at a set price.
Microsoft said the stock payment change fits into a larger plan to revamp the company for long-term success. The plan also includes last year's reorganization to focus on seven core business areas, Microsoft's head-on offensive against open-source threats such as Linux, and its $5 billion push to move to the next-generation Longhorn family of products in the next three years.