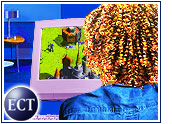 Despite the ugly economic conditions facing IT, there are a few brightspots, and the computer gaming sector is one of them. Computer games continue to sell at a brisk pace, and the hot trend right now is online gaming. Ultima Online, EverQuest and Neverwinter Nights have developed huge fan bases, and more offerings are on the way.
"It's doing very well, actually, as opposed to other IT," Schelley Olhava, program manager for interactive consumer services and consumer devices at IDC, told the E-Commerce Times.
What is the gaming industry doing right — and can IT executives in other industries emulate this success?
Small Percentage, Big Profit
One of the biggest bonanzas in online gaming is the subscription-based model, which enables a company to bring in recurring revenue. EverQuest, for example, has a subscription fee of US$9.99 per month. That beats the traditional model in which publishers get a one-time sale and, if the game is popular enough, sales of expansion packs and follow-up titles.
But although the computer gaming market is huge, online games are only a smallpiece of the pie right now. Yankee Group senior analyst Mike Goodman estimates that gamers who play massive multiplayer online games [MMOGs] or games with a significant online component total "maybe 3 million at most. That's out of probably 68 million people that play [computer] games."
Still, this small percentage of repeat customers can add up to big profits for the companies that produce successful subscription-based games. It is no wonder that so many companies are focusing on MMOGs.
Multiple Revenue Streams
But IDC's Olhava noted that MMOGs are not the only option foronline play. "There are a bunch of casual games and family games likeYahoo! Games … pulling in a huge number of people as well," she said. Unlike MMOGs, online games offered by Yahoo! and some others have a lower barrier to entry. Usually, they can be played within a Web browser for free.
Instead of reaping revenue from monthly subscriptions, companies like Yahoo! hope to drive revenue through ad sales and upgrading free players to subscription plans that add extra features. Yahoo! also offers a "Games on Demand" service that lets users stream popular games from Activision, Infogrames, Eidos and Take 2.
Yahoo's numbers are impressive, according to Dan Hart, general manager of Yahoo! Games. Hart told the E-Commerce Times that the site provided games for "more than 9.4 million unique players in January 2003." He noted that Yahoo! is "one of the largest online games sites on the Web with one of the largest communities — more than 150,000 simultaneous users at peak times." He did not provide total subscriber numbers but said Yahoo! is "pleased with the uptake" of its subscription services.
Give Them What They Want
One main reason why game sales have not suffered in the tough economy is that people always want entertainment. But gamers can be a picky lot. Thekey to producing a successful online game is, not surprisingly, givinggamers what they seek. Each game has its own separate audience, and a company has to know what that audience wants.
Goodman said a sense of community ranks high among players of MMOGs like Neverwinter Nights. "What makes these games so successful [is that] it's not so much a gaming situation," he said. "It's also about a sense of community … the way people play together."
Jay Watamaniuk, community manager at BioWare, which created Neverwinter Nights, told the E-Commerce Times that his company allows players to create their own adventures rather than limiting players to preset storylines. "A lot of time and energy went into creating tools that allow the user to create a game of their own," he said, noting that this has been a successful strategy. "We just had to hand over the tools to the public. They've done 100,000 times what we could have."
Don't Lock Out the Audience
Derek French, an associate producer at BioWare, added that developers targeting Europe as well as North America need to retain a single-player component in their games. "We're blessed in North America with high-speed access being prevalent," he told the E-Commerce Times. "That's not true in Europe, where you're paying per-minute or per-byte." Therefore, he said, it is important thatNeverwinter Nights also allows for significant single-player play. "If you had multiplayer only, your European audience would be much, much reduced…. Only people with the financial wherewithal [to paysteep fees for access] would be able to play your game."
Unlike EverQuest, BioWare does not derive income from subscriptions forNeverwinter Nights. Watamaniuk said the live team that supports Neverwinter is "an experiment," and that BioWare is more concerned with building its brand than with generating revenue directly from the support team.
Failure Happens
But the gaming industry is not an unqualified success story. Although some online games have been extremely successful, providing an online component does not automatically make a game a hit. Particularly when customers are faced with the prospect of spending more than $40 on a game, plus a recurring subscription fee, the potential for success is uncertain.
Probably the most vivid illustration of this scenario is the underwhelming reaction to the release of The Sims Online. While The Sims has been a major hit as a single-player game, sales of the online edition have not met expectations.
Goodman said he is not sure why The Sims Online failed to sell well. "Theanticipation was that everyone playing The Sims would play The SimsOnline, and that's not what occurred."
Learn from Experience
According to Olhava, something was lost in the transition from thesingle-player to the multiplayer experience. "Gamers say it's a boring experience," she noted. "It doesn't capture the same [experience as] whenyou're playing 'The Sims.'"
Gordon Walton, executive producer of The Sims Online, noted thatplayers have a different perspective in the online game. "Given this isan entirely different game than The Sims … I think we had our expectations too high for a subscription-based game," he told the E-Commerce Times.
The real difference may boil down to a shift in perspective. Players can manipulate their characters fully in the single-player version, but they simply play as a Sim in the multiplayer version. Without the ability to control the universe, as it were, some players may lose interest.
However, Walton noted, the title has sold a fair number of copies despite the disappointment. "Most other companies … would love to have a game as large as TSO, but we had hoped to have more customers initially. EA (Electronic Arts) is supporting us in continuing to grow the game, and we are focused on adding more content each week."
Branch Out and Conquer
Like any successful industry, the online gaming niche is not a static one. Until recently, online games were largely limited to PC titles. But with the push of online games for Sonys' PlayStation 2 and Microsoft's Xbox consoles, that is starting to change. In fact, although PlayStation 2 has kept a tight lock on the console gaming market, it looks as if online gaming might drive Xbox adoption if it proves popular enough with console gamers.
According to the Yankee Group's Goodman, more online titles are in development for the Xbox than for PlayStation 2. "I'll give you numbers," he said. "There are 19 titles in development for the PS2, while there are 70 in development for the Xbox, including in-house titles…. In the online space, Sony has been playing catch-up."
Microsoft's online lead could help it pull ahead of — or at least catch up to — Sony in the overall console market, Goodman said. "The Xbox was built from the ground up with the expectation that it'd be an online gaming console," he added, which is the advantage Microsoft was counting on.
In addition to the Xbox design edge, Microsoft has a better infrastructure to support online games, Goodman said. "Microsoft is taking all the risks on themselves. It's a much more risk-free invitation than to create a [online] game for Sony right now…. The other guys [developers and publishers] don't have theinfrastructure and don't want to spend the money for it."
What Lies Ahead
There is little doubt that the online gaming market is set to grow thisyear. But it may not grow enough to support all the games being developed, according to Goodman. "Too many games [are] coming out for the number of subscribers," he said, predicting a great deal of consolidation in the future.
Is there any danger that multiplayer online games will edge out thetraditional single-player variety? Walton said such an outcome is unlikely. "I don't think they will replace stand-alone games, but I believe they will be a more importantentertainment medium in less than 10 years," he explained. "The entertainment experiencethey deliver touches people at a deeper level than stand-alone gaming."
"There are … a ton of massive multiplayer titles in development rightnow." But although the market is crowded, Goodman said this is wherepublishers and developers want to be. "It's a great business model ifyou can make it work. Very expensive to start up … [but] if you can build up a base of subscribers, they tend to be loyal and they pay, which is a good thing."
In a nutshell, it seems the gaming industry has done several things right: developinga loyal customer base, focusing on high-profit sectors, cultivating several revenue streams, listening to customers, evaluating failures to determine what went wrong, and embracing change. IT executives in other businesses might do well to emulate these winning tactics — or they may find themselves saying, "Game over."