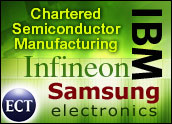 Samsung Electronics says semiconductor sales growth will fall sharply next year, making it the latest company to suggest that the highly cyclical industry has seen the current upturn hit its peak already.
Samsung said it expects sales growth for the overall chip industry of less than 10 percent next year, compared to nearly 20 percent growth for 2004. Samsung said memory chip sales would slow the most, due in large part to bulked-up inventories.
Other chipmakers, including world market leader Intel, have posted results that have made some analysts speculate that slower growth is on the horizon. For instance, Intel has posted two consecutive quarters with growing inventories, a red flag for some observers suggesting weakening demand — as well as a drag on the company's profits.
Hwang Chang-Gyu, who heads up the chip division at South Korea-based Samsung, said the company would still see higher-than-average growth compared to the rest of the industry.
Flash Memory
"Next year the growth rate will definitely be lower compared with this year," he said in a press conference. "However, our differentiation in products and leading technology will still stimulate demand."
Though Intel is still considered to be the industry's bellwether, in recent years, Samsung has become one of the dominant makers of flash memory chips, giving it a good view of worldwide demand.
Semiconductor sales are closely watched by the technology industry as a whole because the chips are the basic building block of almost all computer hardware and consumer electronics.
Recent warnings, from the likes of Intel, which said third-quarter sales would fall short of earlier targets, and Texas Instruments, which said demand for its cell-phone chips was waning, have echoed through the tech sector.
Slowing Down
While industry groups and analysts emphasize that the industry will continue to see growth, particularly in the personal computer niche, there are signs that the expansion has already started to ease.
The Semiconductor Industry Association (SIA) said worldwide semiconductor sales climbed just 1 percent from July 2003 to June 2004 after a stretch of more vigorous expansion.
SIA President George Scalise said some "key sectors," including mobile phone chips, where Samsung is heavily exposed, are seeing the largest inventory growth, which is often the first sign of slowing demand.
But Scalise told the E-Commerce Times that the industry's prospects remain good, especially if economic recoveries in the U.S. and overseas get back on track. "We remain on track for double-digit growth this year and record or near-record sales," he added.
Waiting for Killer Apps
Other industry watchers say the chip industry can return to its strong growth patterns if PC makers or cell phone companies are able to develop technologies that consumers or enterprises consider to be must-haves.
For instance, the mobile processor helped Intel, AMD and others snap out of the sales slump that began in 2000, for instance.
Gartner analyst Charles Smulders said PC growth has already started to show some signs of cooling but should remain robust through 2005, as consumer sales remain strong and the business replacement cycle continues.
Smulders noted that Intel and other companies have begun to take steps, such as price cuts, that indicate a desire to clear out inventories and hedge against a sharper-than-expected drop in sales growth.
"The good companies see these dips coming and are ready for them whenever it's possible to be," he said.
Looking further ahead, most analysts say they expect sales growth might pick up again in 2007, as PC sales pick up in response to Microsoft's planned release of Longhorn and other factors.