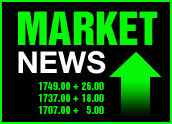 The fourth quarter got off to a positive start today as U.S. stocks traded higher, led by gains in the technology sector. The Dow climbed more than 112 points for the day, and all major indices closed the week on the upside.
An upswing in PeopleSoft shares helped the Nasdaq Composite rise 5.2 points to 1,942.04, its highest level in more than two months.
PeopleSoft Soars
PeopleSoft saw shares soar 15 percent for the session after it announced the removal of President and CEO Craig Conway, who had staunchly opposed the possibility of a merger with Oracle.
Earlier in the day, the Department of Justice said it would drop its attempts to block a merger between the two companies. PeopleSoft said it would replace Conway with chairman and founder David Duffield.
Also in the tech sector, semiconductor shares got a boost when Novellus Systems and Teradyne both received upgrades from J.P. Morgan, which pushed the Philadelphia Semiconductor Index up more than 4.6 percent.
Merck Rallies
The Dow Jones Industrial Average made up some of yesterday's loss by climbing 112.38 points to 10,192.62. Yesterday's blue-chip headline-topper Merck rebounded almost 2 percent from its 27 percent decline while Microsoft and Intel also experienced significant gains on the day.
The S&P 500 index rose 16.92 points to 1,131.50, while the Russell 2000 index climbed 2.1 percent to 585.03. Crude oil finished up for the session at $50.12 per barrel, up 48 cents, on the New York Mercantile Exchange. Crude futures rose 2.5 percent for the week.