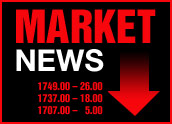 A looming decision on interest rates and earnings warnings from some key U.S. companies weighed on stock markets Monday, drowning out early-day optimism over news that the transfer of power to a sovereign Iraqi government had happened two days ahead of schedule.
The markets roared out of the gate after the starting bell, with the Dow trading as much as 80 points higher after news that the U.S. had transferred power ahead of schedule in an effort to thwart saboteurs.
By day's end, all of the markets were trading in the red.
The Dow finished lower by 14.75 points, closing at 10,357.09. The Nasdaq closed down 5.65 points to 2,019.82, while the S&P gave up .91 to close at 1,133.52.
Decision Coming
While company news weighed on the market, investors might also have been playing it safe ahead of Wednesday's decision by the Federal Reserve Open Market Committee on interest rates.
Most economists expect a quarter-point hike in the key overnight lending rate, although some say a half-point rise is not out of the question.
Those arguing that a bigger jump is coming cited Monday's reports that personal spending by U.S. consumers was up 1 percent in May, the biggest single-month jump since 2001.
Good News, Bad News
The Iraq handover proved a huge relief for the oil futures market, with oil prices trading as much as a dollar per barrel lower on the day, reaching two-month lows.
But on Wall Street, rate worries and company news won the battle for investor sentiment over the Iraq situation.
A published report suggesting that General Motors sales were trending below expectation for the month hit shares of that Dow component, which lost 2.3 percent on the day.
Wal-Mart also warned that its June sales would not hit earlier targets.
The discount retail giant blamed cooler-than-normal weather, which depressed demand for summer items in many parts of the country.