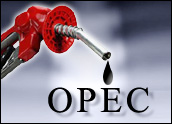 Oil prices marked their largest one-week price drop in three months after a work stoppage at key Norwegian oil fields was resolved on Friday.
Crude prices fell 41 cents a barrel to US$37.52 on the New York Mercantile Exchange and fell nearly 4 percent for the week. Oil was trading for $42 a barrel, a three-decade high, less than three weeks ago.
The drop in prices is expected to continue and should lead to relief for U.S. consumers as gas prices drop heading into the summer.
OPEC Slated To Increase Output
OPEC is slated to increase output next week and U.S. inventories have grown more than expected recently, according to the Department of Energy.
The eight-day-long strike in Norway had impacted about 10 percent of the country's output, but threatened to staunch the 3 million barrels per day the country produces. Norway accounts for more than 2 percent of U.S. oil imports.
Wall Street's Wild Week
The U.S. stock markets ended the week mixed.
The Dow saw a strong sell-off late Friday as investors took defensive positions heading into the weekend.
The Dow was down 71.97 on Friday to 10,371.84, posting a slight loss for the week.
The Nasdaq managed to eek out a gain of 9.90 for the final trading session of week. The S&P closed down 6.34 to 1,134.31.
Tech Sector Strong
The tech sector was one of the day's strongest performers, despite recall news from two bellwether companies.
Intel said it would call back some of its Grantsdale chipsets and Hewlett-Packard said it would take action to fix a memory chip problem in some 900,000 notebook computers bearing the HP and Compaq brand names.
Neither company saw a significant decline in their shares after the announcements.