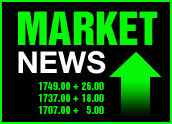 Stocks rallied in afternoon trading today after investors found comfort in the discussions that took place at the most recent meeting of the Federal Reserve.
The relief over the minutes of the Fed's meeting, which indicated strong support for sticking with a measured approach to raising rates, was enough to overcome news that the U.S. trade deficit had soared to an all-time high in February.
Trade Gap
In fact, stocks were well in the red on the trade gap news, but rebounded when the Fed's minutes were made public.
By the close, the Dow was up 59.41 points, or 0.57 percent, to 10,507.97. The Nasdaq climbed 13.28 points, or 0.67 percent, to 2,005.40. The S&P 500 index gained 6.55 points, or 0.55 percent, to 1187.76.
The trade deficit spiked to US$61.04 billion in February, the Commerce Department said, thanks largely to high oil prices.
The deficit is on pace to exceed the all-time high of $617 billion — set last year — by as much as $100 billion if current trends continue, the agency said.
Oil Impact
Also pushing stocks higher was a retreat in oil prices. Crude futures lost $1.85 to close at $51.86 a barrel in New York Mercantile Exchange trading, some $6 below recently achieved high levels.
Still, most analysts believe oil prices will remain a drag on stocks and the economy for the near future, particularly when the summer driving season gets under way in the U.S. and gasoline price jumps begin to hit consumers' pocket books.