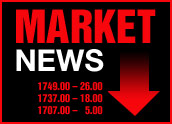 Stocks fell sharply to end the week today, putting an abrupt halt to a modest four-day winning streak for the Dow as profit taking kicked in amid investor uncertainty about the state of the economy in general and corporate profits in particular.
The Dow Jones industrial average ended down 84.98, or 0.81 percent, to 10,461.34. The Nasdaq gave up 19.44 points, or 0.96 percent, to finish at 1,999.35, and the S&P 500 lost 9.94 points, or 0.83 percent to close at 1,181.20.
Higher for Week
The losses weren't enough to erode gains made in earlier trading sessions, however, and all the major averages gained on the week, with the Dow up 0.55 percent, the Nasdaq climbing 0.73 percent and the S&P up 0.71 percent.
The drop in stocks today came despite further retreat by oil prices, which lost more than a dollar during the session and have dropped more than US$5 from their recent record highs of less than a week ago. Futures fell for the fifth straight session, dropping another $1.31 to end the week at $52.80 per barrel after trading above $58 as recently as Monday morning.
Market watchers said investors might have been cashing in any recent profits rather than being exposed to additional risk at the onset of earnings season.
Earnings Season
Next week brings the first big round of first-quarter earnings data, with reports from tech bellwethers such as Advanced Micro Devices and Sun Microsystems and closely watched companies such as General Electric, Pepsi Co. and the New York Times Co.
In the meantime, investors can focus on the continued rapid pace of merger and acquisition activity. The latest reported deal involves a complicated three-way pact that would have Time Warner and Comcast acquire and divvy up bankrupt cable provider Adelphia, with a total price tag of around $18 billion in cash and stock.