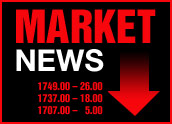 Stocks continued to struggle in the face of mounting inflation concern today, with the Dow falling to its lowest level in six weeks and the Nasdaq treading water as investors digested the latest merger news.
The Dow Jones Industrial Average lost 64.28, or 0.6 percent, to 10,565.39, its lowest closing price since Feb. 1. The Nasdaq was basically flat, losing 0.28, or 0.01 percent, to 2,007.51. The S&P 500 index dropped 5.87, or 0.49 percent, to close at 1,183.78.
Oil Prices
Inflation continues to be the most-often cited factor behind the market's recent woes, with oil in turn the main driver of price jump worries.
Crude oil futures calmed slightly today, losing 10 cents, to US$56.62 per barrel on the New York Mercantile Exchange as the OPEC cartel said it would consider more production increases to keep prices from spiraling out of control.
Investors might be especially attuned to inflation this week as the Federal Reserve gathers for a policy meeting that most believe will result in another quarter-point bump in interest rates.
Too much overheating of prices as a result of oil spikes could prompt the Fed to be more aggressive, but most analysts believe that's unlikely given that economic growth is at acceptable levels.
M&A Revisited
The Fed is expected to announce its rate decision on Wednesday. The group's statement will be closely watched for signs that it is departing from its pledged "measured" approach to rate hikes.
One positive side effect of higher rates could be more support for the dollar, and investors seemed to be hedging on that prospect today, with the dollar up against the yen and euro.
Once again, the markets got a boost from merger activity, this time in the technology and pharmaceutical sectors. Barry Diller's IAC/InterActiveCorp said it would buy search engine firm Ask Jeeves for $1.85 billion in stock, sending that firm's shares higher by more than 18 percent. Alaos, shares of Inamed Corp. shot higher after it became the target of a $2.8 billion buyout offer from Medicis Pharmaceutical.