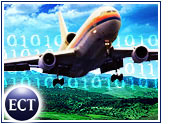 Name-your-price e-tailer Priceline.com (Nasdaq: PCLN) reported third-quarter results Thursday that came in just above expectations, which had been lowered to reflect a falloff in travel after the September 11th terrorist attacks on the United States.
The Norwalk, Connecticut-based online travel company also predicted it will break even, before charges, in the fourth quarter.
Priceline said income (before payroll taxes, amortization of compensation charges and a non-cash preferred dividend) for the quarter ended September 30th totaled US$6.3 million, or 3 cents per share, compared with a loss of $2.2 million, or 1 cent per share, in the same period last year.
Analysts, according to First Call/Thomson Financial, on average had predicted income of 1 cent per share for Q3 2001.
Revenue, however, slipped to $302 million from $341 million in the year-earlier quarter. The company posted a net loss of $3.6 million, or 2 cents per share, against a loss of $199 million, or $1.19 per share, in the third quarter of 2000.
Before the announcement, Priceline stock closed Thursday at $4.40, down 41 cents, or 8.5 percent. In the first 90 minutes of after-hours trading, however, Priceline recovered most of the day's loss to reach $4.75.
Recovery Needed
Priceline said demand for its travel products "has substantially recovered" from the terrorist attacks, but refunds issued in their aftermath, as well as "deep discounting" by airlines, hotels and rental-car companies, resulted in lower sales for the quarter.
Prior to September 11th, Priceline's business had been running "basically on or above" plan, Priceline chairman and CEO Richard S. Braddock told analysts and investors on a conference call.
"We continue to operate in an uncertain competitive environment," Braddock added.
However, Priceline's following appears to be increasingly loyal. The company said that repeat customers accounted for a record 63 percent of its business during the quarter.
Hotels and Cars
Priceline president and chief operating officer Jeffery Boyd said that hotel and car reservations made up 42 percent of the company's bookings in the third quarter, up from 28 percent a year earlier.
Hotel and rental-car revenue has topped airline ticket revenue for the past two quarters, Boyd said.
Nearly 13 percent of visitors to Priceline ended up buying something, the company said, as opposed to 8 percent for rival Travelocity (Nasdaq: TVLY) and 5.5 percent for Expedia (Nasdaq: EXPE), another competitor.
Q4 Outlook
Priceline predicted fourth-quarter revenue of $215 million to $235 million, which Braddock said "reflects today's travel industry conditions as well as the usual seasonal weakness of our fourth quarter." In the fourth quarter of last year, Priceline saw $228 million in revenue.
At the same time, the company said it expects to break even on a pro forma basis during the fourth quarter, as opposed to a loss of 15 cents per share in the year-earlier quarter.
"Results could range a penny or two on either side of that goal," Braddock said.
Priceline has managed to dig itself out of a hole by shedding unprofitable businesses, such as grocery and gasoline sales, and returning to its travel roots. At the same time, the company has diversified its travel offerings to reduce reliance on airline tickets and has expanded its mortgage business.