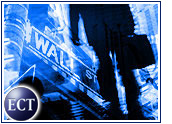 Internet incubator CMGI (Nasdaq: CMGI) has completed the second phase of a two-part financial restructuring, and is nowon its way to reaching profitability and growing again, the company said Tuesday.
"With today's agreement, we've effectively closed the second chapter of ourfinancial restructuring initiatives and significantly improved our capitalstructure in line with the company's long-term goals," CMGI chief financialofficer George McMillan said.
CMGI said it retired a series of preferred stock issued in 1999 with amaturity value of about $398 million as of June 2002. Under an agreementwith the stockholders, the debt was retired in exchange for about $100.3million in cash, 34.7 million CMGI common shares and an obligation todeliver 448.3 million shares of Pacific Century Cyberworks by December 2002.
The move follows the retirement last month of a separate debt obligationinvolving Compaq Computer (NYSE: CPQ), which took a $500 million charge to quarterly resultsto cover the drop in its investment in CMGI.
Stock Drop
CMGI, which counts among its investments AltaVista and NaviSite (Nasdaq: NAVI), has seen its stock plummet with the burst of the Internet bubble. Before that bubble burst, in early 2000, CMGI shares traded above $160. The shares reached a 52-week low of 60 cents in October.
In trading Wednesday, CMGI shares fell to $2.30, down 32 cents or 12.2 percent.
In September, CMGI reported a net loss of $3.69 per share, along with a 12 percent drop in revenue, for the fourth quarter ended in July. The company also predicted a loss and a 10 percent revenue drop for fiscal 2002, mainly because of charges related to its ongoing restructuring and divestiture plan.
CMGI is shedding its money-losing subsidiaries and concentrating on thoseventures that are likely to become profitable. Chairman David Wetherell hasreportedly agreed to accept a pay cut slashing his salary from $503,000 a year to $1.
Poised for Growth
McMillan said the newest debt retirement leaves the company free to work on "strengthening (its) fiscal management and executing on an operating plan to grow" in the years ahead.
McMillan said he hoped that the capital restructuring — along with the company's ongoing business restructuring — will enable CMGI to focus on accelerating its "recurring operating profitability."
CMGI, based in Andover, Massachusetts, has investments in companies thatprovide a range of Internet services, from search engines to marketing toe-commerce. The company also has a venture capital affiliate, @Ventures.