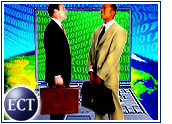 Business-to-business (B2B) incubator Internet Capital Group (Nasdaq: ICGE) said Wednesday that its second quarter 2001 losses rose 90 percent compared to a year earlier, reaching more than US$354 million.
Nevertheless, Wayne, Pennsylvania-based ICG said it has been building its cash reserves as well. ICG said it ended June with about $212 million in cash and equivalents, and has since increased that figure to $290 million by selling some partner companies, including close to $100 million from its stake in ICG Asia.
"We are very confident we can exceed our target of having $200 million in cash at the end of the year," ICG president and chief executive officer Walter Buckley said during a conference call with analysts. "That will allow us to retain our independence from the capital markets."
Slimming Down
Buckley noted that ICG has already cut off funding to some of its firms, including PaperExchange and Cybercrop, whose "business models were taking too long to develop."
In fact, ICG and fellow incubator CMGI (Nasdaq: CMGI) have both dramatically reduced their holdings, seeking to sell off valuable assets and simply cutting loose many of their early investments.
Andover, Massachusetts-based CMGI, which restructured last year, but still reported a $1 billion loss in its most recent quarter, said this week it would not provide any additional funding to interactive advertising firm Engage (Nasdaq: ENGA).
Focus Pared
Buckley said ICG and its partners are now focused on reducing losses further and pushing its most promising companies toward profitability.
"No one could have expected the sorts of ups and downs we've seen in the market," Buckley said. "We have taken substantial steps over past nine months to put ourselves in a position to succeed."
Combined, ICG's partner firms, which include online education software firm Blackboard and B2B services firm VerticalNet, generated $69 million in revenue, an increase of 167 percent over a year earlier.
Mixed Bag
During the first quarter, ICG sold its ownership in BuyingTeam and Vivant while shutting down poor performers such as eMarketWorld and Collabria. The sales and shutdowns have reduced ICG's family of partners from 65 to 58.
Buckley cited CommerceQuest, which recently signed Home Depot as a customer for its supply chain and online software, as one of its best-performing partners. Meanwhile, Logistics.com signed 120 new customers during the quarter, ICG said, including Gillette and Staples.
Like CMGI, ICG rode the dot-com wave to dizzying heights, only to come crashing back to earth. Last November, ICG laid off 35 percent of its workforce and set out to restructure its holdings.