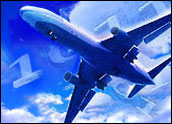 Name-your-price e-tailer Priceline.com (Nasdaq: PCLN) received a boost late Monday when America Online (NYSE: AOL) agreed to feature the company's travel products on AOL's popular Web sites.
Priceline shares jumped in after-hours trading and continued to rise early Tuesday, climbing 61 U.S. cents, or nearly 11 percent, to $6.18.
Goldman Sachs analyst Anthony Noto repeated a market outperform rating on Priceline shares, saying the arrangement is likely "the first of several online marketing deals" that will be announced as the cost of online distribution falls.
"This shift could drive incremental traffic," Noto wrote in a research note Tuesday.
Start Spreading the News
The deal makes Priceline's travel products — which make up the company's main business — available over AOL's Travel Channel, as well as through AOL's CompuServe, Netscape and MapQuest services.
AOL's 24.4 million paid subscribers will be able to shop for airline tickets, hotel rooms, rental cars and vacation packages.
Terms of the agreement, Priceline's first major online advertising deal, were not disclosed.
Rivals Side-by-Side
The deal positions Priceline alongside its larger rival, Travelocity (Nasdaq: TVLY), which has a similar arrangement with AOL.
Priceline, which has rebuilt its business and its image after running into problems by expanding too far and too fast during the dot-com boom, was able to top analyst estimates in the third quarter ended September 30th, and expects to break even, before charges, in the fourth.
Positioned For Growth
Noto thinks the company could do better in the first quarter of next year, earning 2 cents per share before charges as demand improves.
"Priceline is well-positioned long term, given its leadership position in the value segment of e-commerce with an established brand name, significant technology advantages, a proprietary name-your-own-price system, and a global market opportunity with horizontal diversification potential," he wrote.
Moreover, said Noto, Priceline's "management team is 'battle-tested,' having navigated through financial/operational difficulties," and has demonstrated "an ability to right-size business, re-instill consumer trust in its brand, repair customer service, achieve profitability and regain market share."
Big Audience
Priceline chief marketing officer Brett Keller said the deal will bring Priceline products "to the largest consumer audience in cyberspace."
Keller added: "In a short period of time, Priceline.com has built a base of 12 million customers, and we believe the tremendous strength of America Online's membership will be a powerful complement."