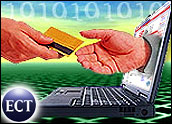 Online shoppers concerned about credit-card fraud can sign up for addedsecurity under a program introduced Monday by Visa USA.
The new "Verified by Visa" program works with participating banks to validatecardholder identity through the use of passwords during the online checkoutprocess. Visa said the plan "gives consumers greater control" over theircredit cards and will reduce the potential for unauthorized card use onthe Internet. Visa also is hoping the new plan will lure more shoppers to the Web.
"More people are spending greater amounts of time online, but when it comes to Internetpurchases, some cardholders are still sitting on the sidelines," said VisaUSA president and CEO Carl Pascarella.
Ready for the Holidays
The Verified launch comes as the holiday shopping season gets under way.Early evidence points to a surge in online shopping, with Jupiter MediaMetrix last week reporting a 43 percentyear-over-year rise in e-tail spending during Thanksgiving week.
Even so, some consumers remain concerned about punching their credit-cardnumber into a computer. A report released last month by McKinsey & Co. said lack of trust is holding back many would-be Webshoppers.
Visa said it introduced the new service after conducting a survey ofconsumers in November. Seventy percent of survey respondentssaid they would feel safer about shopping on the Web if theycould use a password-protected system.
Cleared for Takeoff
Visa already exempts shoppers from liability if their credit cards are usedwithout their consent. The new service, Visa said, is an "extra precaution"consumers can take if they wish.
Registration can be done on the Visa Web site or through participatingbanks. Once a consumer registers, participating online merchants will askfor a password after the shopper hits the "buy" button.
Dell, BOA Sign On
Dell Computer (Nasdaq: DELL), one of the retailers participating in the program, said itshould help get some potential e-shoppers off the fence. "Greater consumerconfidence in e-commerce ultimately means increased online sales," said ToddPenner, online marketing director of Dell's consumer division.
Visa said it is advertising the Verified program online, in print and ontelevision. Banks, too, will help push the plan to their customers. For example, Bank of America (BOA) said Tuesday that it is offering the plan to its more than 11 million cardholders.
"When combined with a participating merchant site using secure socket layerencryption, Verified by Visa may offer one of the most secure onlineshopping experiences available today," said Jai R. Dorsey, product manager of BOA's bank card services and e-commerce marketing division.
Visa first announced the Verifiedprogram in August.