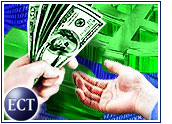 Online marketplaces and other exchanges that want to grow are looking beyond the initial transaction process and anticipating the needs of customers and users, said a new study from Aberdeen Group.
The report, released Tuesday, said the best performing "process nets" are those that work hard to involve everyone in the supply chain.
"It takes hard work and best practices to make liquidity a reality,"said William Brandel, e-business research director at Aberdeen.
Network Evolution
Just how difficult it is to reach liquidity is something that many exchanges are beginning to realize, now that they have been in operation for a couple of years, Brandel said. Much of the early work, he told the E-Commerce Times, "was based on pre-IPO ambitions and trying to define themselves."
A good example of a successful network, said Brandel, is Covisint, the parts exchange formed byDaimlerChrysler, Ford, General Motors and other automakers.
"They're doing a number of things right," Brandel said.
Reaching Out
In addition to maintaining a booming auction business, Covisint is investingin making sure that the acceleration continues, Brandel said.
"What's more interesting is how they are reaching out to the second- and third-tier suppliers to get them enabled into their network," he said. "The idea is, the more parts you bring into the network, the more economies you're going to gain and the more efficiencies you're going to gain."
In effect, Brandel said, Covisint is listening to a group that is "an importantcomponent" of the overall picture, even though that group did not have apart in the formation of the venture and has no equity interest in it.
Management, he said, realizes the importance of getting smaller players involved, because "if they don't play ball, the other, upstream players aren't going to see the benefits."
FreeMarkets Listens
Online marketplace operator FreeMarkets (Nasdaq: FMKT) is another success story, according to Brandel. The company, he said, has worked hard to understand the businesses it deals with, so that "e-business is almost asecondary item in the equation."
At FreeMarkets, he said, the focus is more on consulting than on marketplaceoperations.
"E-business ends up being an answer to a number of the questions, but at the same time, if e-business is not applied correctly to the equation, all you end up doing is spending a lot of resources on activities that are not necessarily the right ones," said Brandel.
Last month, FreeMarkets raised itsestimates of fourth-quarter revenue and operating profit, sayingbusiness in the quarter was proving stronger than expected.
Making Progress
The Aberdeen report found that Net markets overall are growing. Almosttwo-thirds of the networks studied are seeing more business, withtransactions growing at an average of 36 percent a month, the report said.
Brandel said the report should "send a message back to enterprises saying,these entities are more stable than you might have thought, and they'remaking progress."