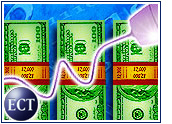 Car companies are moving their purchasing and other commerce activities online, taking advantage of new technology to cut costs in a slowing economy, according to a report released Wednesday by Jupiter Media Metrix (Nasdaq: JMXI).
As a result, Jupiter said, the auto industry is positioned to lead a rebound in business-to-business (B2B) e-commerce, which the firm said is likely to account for 36 percent of all corporate B2B spending by 2006.
"Manufacturers should look to the automotive industry to see growing trends in B2B commerce," said Jupiter analyst Jon Gibs. "Evolving Internet technologies, the slowdown in new car sales and fierce competition among automakers are forcing manufacturers to connect electronically with their trading partners and end customers to stay competitive."
Car companies have been active in moving their business activities online. A separate Jupiter report earlier this month found that car manufacturers are positioned to overtake their pure-play Internet rivals in online automotive sales.
Ford Motor (NYSE: F), General Motors (NYSE: GM) and DaimlerChrysler (NYSE: DCX) are partners in an online exchange, Covisint, designed to speed transactions and cut costs. In August, Ford said it would use Covisint to develop and host its central supplier network.
In July, DaimlerChrysler formed a venture with Union Pacific (NYSE: UNP) to track vehicle shipments over the Web.
Aerospace To Follow
In addition to auto and auto-parts companies — which Jupiter said will conduct half their purchasing activities online by 2006 — the computer/telecom equipment, aerospace and defense, metals and mining, and chemical industries will shift much of their spending to the Internet in coming years, Jupiter said.
"While saving money on operations is critical in a weakening economy, using the Internet to get to market faster with the right product mix is paramount for automotive companies as consumer demand continues to rise," Jupiter said.
Rebound Seen
Though businesses have reevaluated their online spending, along with spending on capital goods in general and technology in particular, Jupiter predicted that companies will break out their checkbooks again once the economy rebounds.
Jupiter, which recently cut its forecast for online B2B spending, said B2B e-commerce will account for US$5.4 trillion in 2006, up from $466 billion this year and $793 billion in 2002.
A drop in spending on "discretionary software and services" is the main factor behind the drop in B2B e-commerce, Jupiter said. However, the firm added that most businesses continue to view e-commerce as a key way to save money and maintain competitiveness. Just 13 percent of companies surveyed by Jupiter said they did not see value in online B2B ventures.
Resistance Remains
At the same time, a study released earlier this month by the Yankee Group found that corporate Internet strategists have less confidence in online business than they did a year ago. The firm blamed the slow economy and bad press for the executives' dim view of the Web, and also noted that most companies do not have ways to accurately measure the success of their e-business programs.
Jupiter conducted its survey of purchasing managers at companies with $50 million or more in revenue in July. The report's results are based on the responses of 316 executives.