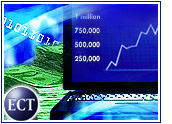 While companies continued to increase their online business-to-business (B2B) adoption rate during the second quarter of 2001, most organizations still report that they are in the early stages of full-scale Internet-based buying, according to a study released Monday by the National Association of Purchasing Management(NAPM) and Forrester Research.
"The Internet continues to expand as a buying channel but it's no longer a panacea," said Forrester group director Bruce D. Temkin. "Buyers realize that e-procurement takes more than surfing on supplier Web sites."
To this end, less than half of all firms surveyed for the Report on e-Business — a quarterly survey tracking online procurement activity among manufacturing and non-manufacturing companies — said they were in the beginning phases of implementing Internet purchasing plans.
Roughly one-fifth of large-buying and non-manufacturing companies view themselves as at least 20 percent along the way toward completion of their Internet B2B efforts.
B2B stumbling blocks, according to the study, include difficulties integrating online buying with internal purchasing systems, as well as a lack of clear-cut benefits. However, although progress on the Internet procurement front has been hampered by the sluggish market, the study said that few firms identified the economic downturn as a "predominant" concern.
Growth Spurts
The NAPM and Forrester pinpointed a number of areas in which B2B online activity grew between April and June.
For instance, nearly 73 percent of organizations said they utilize the Internet for indirect purchases, inching up from the 71 percent that reported doing so in the previous quarter.
During the same period, roughly 54 percent of buyers said they used the Internet to purchase direct materials, an increase from last quarter's level of 46 percent.
Going to Auction
One of the most pronounced changes from the previous quarter's e-business report involved the "significant" expansion in the use of online auctions, with more than 20 percent of organizations buying products or services via Internet auctions.
Other trends noted by the study include continued wide-scale use of the Internet by firms to identify new suppliers, and increasing online collaboration among small-volume buyers.
Great Expectations
Looking ahead to the next 12 months, 84 percent of those surveyed said they believe the Internet will be important to their procurement enterprises.
The study found that large-dollar buyers, on one end of the spectrum, and small-volume purchasers, on the other end, hold the highest expectations for the Internet, believing it to be either a "very important" or "critical" channel for their businesses. Purchasers in the mid-range did not rank their expectations as high.
"While the general trend is positive, I believe there is now more of a tendency to wait and see before making major strides," said Edith Kelly-Green, FedEx vice president of sourcing and procurement, and a NAPM member. "This does not mean that the goal is being reassessed, but that the timing may not be as quick as initially planned."
To compile data for its latest quarterly index, NAPM and Forrester surveyed almost 400 manufacturing and non-manufacturing organizations about their online procurement strategies.