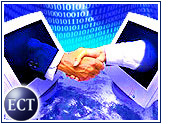 Within the next few weeks, the U.S. Department of Commerce, in partnership with IBM (NYSE: IBM), is scheduled to launch a new business-to-business (B2B) e-marketplace to help U.S. sellers hook up with foreign buyers.
Dubbed BuyUSA.com, the new marketplace will particularly help small and mid-sized enterprises (SMEs) find international buyers and distributors for their products, and will allow businesses outside the U.S. to view product catalogs and background information on U.S. companies.
"I imagine as B2B online trade becomes more global, more trade will shift to using these types of channels," Jupiter Media Metrix B2B analyst Jonathan Gibs told the E-Commerce Times.
BuyUSA spokesperson Phyllis Bingham said Wednesday that portions of the site are currently live and that "more and more" features are added every day. However, although the stated purpose of BuyUSA is to act as a matchmaker between U.S. sellers and foreign buyers, Gibs said that BuyUSA's true value is elsewhere.
"The future of this type of marketplace is not to build new trading relationships," Gibs said. "Buyers do not want that. It is to facilitate existing ones."
Gibs added: "One type of facilitation is to help manage the complex issues surrounding import/export. … If [BuyUSA] is to see any success, it will focus more on the import/export issues and less around helping buyers and suppliers find new trading partners."
New Way of Doing Business
The government's foray into B2B would appear to put the U.S. in direct competition with private industry. However, Gibs said that the initiative is simply a new way of doing what the Department of Commerce's Commercial Services branch has been doing for years.
"The government to some degree already manages trade between the U.S. and foreign nations," Gibs said.
Gartner senior analyst Gale Daikoku told the E-Commerce Times that "the benefit of tapping into the immense knowledge base and resources of the Department of Commerce through the site is a definite plus."
Better Shop Around
Although Daikoku believes that BuyUSA can benefit some SMEs, she advised them to shop around before deciding on a B2B e-marketplace.
"SMEs should also compare the online offerings of existing intermediaries (such as brokers, third-party logistics providers or freight forwarders) and established e-marketplaces such as GlobalSources.com and VLINX.com that may have a more complete range of services necessary for completing offshore transactions," Daikoku said.
"Going offshore brings new risks [for] companies and SMEs," Daikoku said. "Leveraging services such as insurance, inspection, escrow, financing and customs may be of greater importance to truly expanding your potential sales channel — this goes beyond the matchmaking."
Backed by Bricks
For its part, Commercial Services is hardly downplaying BuyUSA's potential to become a B2B Cupid.
"We want BuyUSA to be a marketplace that saves both buyers and sellers time, money and worry," Commercial Service acting director general Jerry Mitchell said. "Our primary function is creating perfect matches. We've done it successfully for 20 years around the world, and now we're doing it online."
BuyUSA is supported by Commercial Services' worldwide network of 1,800 trade professionals, located in U.S. export assistance centers, embassies and missions around the world.
Free Sign-up
BuyUSA is free for companies looking to purchase U.S. goods and services, but sellers are charged a subscription fee ranging from US$300 to $825 per year to be listed in the directory.
The basic subscription fee includes access to the buyer database and e-mail alerts when potential buying partners sign up. The more expensive packages include online catalog capabilities and links to company Web sites.
Each of the buyers and sellers at the BuyUSA site is prequalified by Commercial Services. Sellers are required to be primarily U.S.-owned, have the resources to support international sales, and have the authority to sell goods or services outside the U.S.
Buyers are required to be creditworthy and legally eligible to import goods from the U.S. Both buyers and sellers are prohibited from using BuyUSA if they are in violation of any U.S. laws.