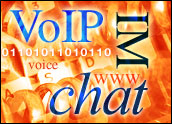 AT&T today announced that Best Buy will be among the first national retailers to offer AT&T's residential Voice-over-IP (VoIP) phone service, called the AT&T CallVantage Service, in its 628 stores nationwide and online at bestbuy.com.
AT&T CallVantage Service will be available in Best Buy stores beginning this fall. According to the companies, Best Buy and AT&T will promote AT&T CallVantage Service through in-store marketing as well as print, broadcast and online advertising.
"We're delighted to launch our retail strategy for AT&T CallVantage Service with Best Buy, a well-known and respected brand name and the nation's leading specialty retailer of technology and entertainment products and services," said Cathy Martine, AT&T senior vice president for Internet Telephony, Consumer Marketing and Sales.
"Voice-over IP is an exciting technology and service offering for consumers and small businesses alike," said David Sprosty, vice president of subscription services at Best Buy.
AT&T CallVantage Service works with most cable modem or digital subscriber line (DSL) broadband connections. The service is compatible with most home computer networks and can be used in conjunction with various home network routers.