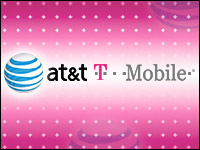 AT&T announced a deal Sunday that will make it the largest cellphone company in the U.S., surpassing Verizon. AT&T reached an agreement to acquire T-Mobile from Deutsche Telekom for about US$39 billion. The deal will need approval from the Federal Communications Commission and the Department of Justice to verify it would not violate antitrust laws. If approved, it could close in about a year.
AT&T triumphed in an earlier merger when it acquired Cingular Wireless for $41 billion in 2004.
AT&T released a presentation online explaining how the U.S. wireless market will remain competitive even as it gains control of about 43 percent of the sector.
The T-Mobile merger will expand AT&T's 4G LTE service to 95 percent of Americans. Current T-Mobile customers will have to upgrade their 3G phones for the 4G network, AT&T said Monday, but they will have plenty of time to do so.
AT&T's and Deutsche Telekom's stocks shot up with the merger announcement.
Sprint released a statement saying that Verizon and AT&T are alrady too powerful and that the merger is not in the best interest for consumers. The deal will cause Sprint — which had engaged in talks about acquiring T-Mobile — to a distant third place in the U.S. cellular market. Sprint's stock fell after the announcement.
Neither AT&T nor T-Mobile responded to the E-Commerce Times' requests for comments by press time.
How Do You Spell Monopoly?
This acquisition could give major upgrades to the AT&T network or it could bog it down with too much activity.
"AT&T will become the No. 1 carrier in terms of post-paid and pre-paid market-share, turning it into a GSM monopoly," Neil Shah, analyst for wireless device strategies at Strategy Analytics, told the E-Commerce Times. "But, this also means a huge and uniform nationwide GSM-HSPA-LTE network coverage."
Verizon might benefit from the merger, but Sprint probably won't.
"From a competitive point of view, it might be a blessing in disguise for Verizon Wireless, as it eliminates an aggressive competitor in the form of T-Mobile — but it's not good news for Sprint. Losing out on a potential acquisition to the competitor will shatter its dreams of lowering costs by acquiring scale."
This deal will effectively give AT&T more possibilities and more power in the market.
"From AT&T's point of view, this means a huge subscriber base generating healthy economies of scale, and higher buying and bargaining power with suppliers — from network equipment to user equipment," said Shah.
"Above all, the company will gain a good chunk of AWS spectrum resource to let the carrier efficiently deploy next-generation wireless networks (HSPA+, LTE)," he noted.
There are definite challenges in a merger this grand in scale.
"This consolidation in one of the world's biggest and most important mobile markets won't be a smooth ride for AT&T, as the company is restricted by the amount of concentrated market penetration allowed. This may result in regulatory challenges," observed Shah.
"The market will be closely scrutinized by the FTC and the FCC to ensure that AT&T's market share is not too concentrated," he said. "This might also lead to the divestiture of some AT&T assets. Overall, the complete merger of the business from integration of assets to streamlining of processes and resources could take almost two years, subject to the regulatory approval."
Improved Network Capabilities
AT&T will have some choices to make as to how it integrates its business model with T-Mobile's.
"When AT&T buys T-Mobile, they get the spectrum and the towers," Michael Morgan, senior analyst for mobile devices at ABI Research, told the E-Commerce Times.
"The coverage will improve. They really will get a lot of synergy out of this," he said. "What I'm wondering is, if the money they're going to save will perpetuate the T-Mobile business model — or, is AT&T going to go with their core model of a higher price?"
The future is unwritten for T-Mobile consumers.
"T-Mobile customers may be excited — they may be able to get the iPhone with their current contract," said Morgan. "But they'll also be nervous. Are they going to lose their plans? Once this goes through government regulatory scrutiny, will the regulators be OK with AT&T taking away a low-cost service provider? The government may say, 'You can join up if you continue a low-cost offering.' AT&T could say, 'We already have a low-cost offering.' But AT&T's low-cost offering is not as low a T-Mobile's."
If Verizon were to buy Sprint, then the third place would be even further away.
"If the government lets AT&T take T-Mobile, will this block out Verizon's ability to buy Sprint?" said Morgan. "Will they let competition go down to two? For Verizon, the only way to match AT&T would be to buy Sprint. This market is no longer about organic growth. If they're going to grow, they have to buy somebody."