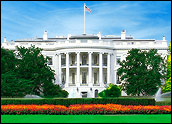 The White House delivered a body blow to the Stop Online Piracy Act when it announced Saturday that it opposed major elements in two Congressional bills that were intended to curb copyright violations on the Internet.
The reactions were immediate. Rupert Murdoch, chief executive of News. Corp., attacked the White House in an onslaught of Twitter messages Saturday night, stating that "Obama has thrown in his lot with Silicon Valley paymasters." He also called Google a "piracy leader."
Google fired back, reportedly calling Murdoch's allegations against it "nonsense."
Back to the Drawing Board?
While the current version of the bill is under attack from tech corporations, members of Congress and the White House, it's still possible that a milder version of SOPA will eventually appear and prevail.
AOL, Facebook, Google and Yahoo have endorsed an alternative that aims to go after foreign Web sites that engage in copyright infringement via international trade law. That softer alternative is co-sponsored by Darrell Issa (R-Calif.). Republican House leader Eric Cantor has assured Issa that SOPA won't come up for a vote until there is consensus.
What Are SOPA's Chances?
With the White House having denounced the current version of SOPA, the chances for passing it are low.
"Right now, I'd say the chances slimmer than they were last week," Charles King, principal analyst at Pund-IT, told the E-Commerce Times. "Not only are democrats and the White House lining up against it, but the appearance of Darrell Issa's competing bill suggests that support for SOPA among republicans is anything but rock solid."
Another factor is the election environment. Legislators get shy about controversial bills when they're about to face voters.
"Before the elections, the chances of this passing are slim or none. After the elections, it will likely depend on who wins," Rob Enderle, principal analyst at the Enderle Group, told the E-Commerce Times. "This has become a hot potato, and it has been losing backers rapidly as a result."
What If It Does Pass?
SOPA critics argue that the changes it would force would be disruptive to online business.
"If it passes, it somewhat stifles the Internet. The act would potentially block search engines from directing people to certain sites," Zeus Kerravala, principal analyst with ZK Research, told the E-Commerce Times. "Clearly there is a problem with online piracy, but in my opinion, changing the way the Internet works is the wrong way to solve it."
The companies that oppose it are the ones that have really built this current version of the Internet and all the value it brings, Kerravala noted.
The proposed bill would also bump into basic American freedoms, according to critics.
"This is probably one of the most significant successful challenges to free speech," said Enderle. "It bypasses due process, opening a massive door to misuse."
The Murdoch Factor
When News Corp.'s Murdoch loudly opposed Obama's nix on the bill, it was from the point of view of a content provider. Yet his screed on Twitter comes at an awkward time for News Corp.
"Rupert Murdoch is showing an amazing and ill-timed disconnect with popular opinion given his recent troubles," said Enderle, referring to the phone hacking scandal that erupted at News Corp.-owned newspapers last year. "Murdoch appears to be the only backer still vocal on this ill-conceived law."
Even if Murdoch has a point about needing more tools to stop content theft, the Issa bill may be a more workable way forward.
"Mr. Murdoch supports the current bill because he is a content creator and is looking to limit all means of pirating content," said Kerravala. "Better legislation and copyright laws would make more sense, but I understand his point as well."
Google to Murdoch – Nonsense!
The other target of Murdoch's tweet wrath, Google, countered that it is already fighting piracy diligently as a way to deflect a potentially disruptive bill.
"Google's primary stated goal is to provide information access to the masses," said Enderle. "This law directly circumvents that goal."
Google has more than its search business to protect. The company always wants to protect its YouTube subsidiary.
"YouTube is the short answer to Google's opposition," said King. "Even though Google has a working policy in place for removing copyright infringing material, there are concerns that SOPA's restrictions are so draconian that they could be used to shut down YouTube. The bill would put Google and other site owners on the hook for significant fines or damages claims."