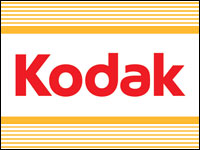 Kodak announced on Thursday that as a result of an ongoing strategic review process and commitment to drive profitability, it will phase out its digital cameras, pocket video cameras and picture frames in the first half of 2012. Kodak will expand its current brand licensing program and seek additional licensees.
The digital business currently makes up three fourths of the company's total revenue. Just weeks ago, shortly after filing for chapter 11 bankruptcy protection, Kodak showed off several new digital cameras at the Consumer Electronics Show that will now be included in the phase-out. When it's complete, Kodak expects to realize annual operating savings of more than US$100 million. The company will incur a charge of about $30 million in related costs.
Going forward, Kodak's consumer business will include online and retail photo printing in addition to desktop inkjet printing. Kodak will continue to focus on photo kiosks, printers, Facebook apps, online galleries, camera batteries and accessories, and products for nondigital traditional photo capturing.
Mapping Out a New Battle Plan
The world of photography experienced a major shift with the proliferation of digital cameras. Even the digital camera world has been through major changes with the widespread access to camera phones.
"We have discussed this action with our retail partners, and they understand it. They see the same trends we see," Christopher Veronda, manager of corporate communications at Kodak, told the E-Commerce Times. "We will continue to partner with retailers on the wide range of consumer products and services that remain."
Kodak's focus is on businesses that help it deliver profitable, sustainable growth, he said.
The Decline of a Photography Icon
Kodak was once at the pinnacle of the photography industry, but digital cameras changed the game dramatically. Along the way, the company has made some mistakes.
"It's fair to call this the last gasp of the traditional Kodak company," Charles King, principal analyst at Pund-IT, told the E-Commerce Times. "For a company that was once synonymous with easy, affordable photography, it's surprising how severe its missteps have been over the last few years. They're now facing a reconfiguration of their core business."
A Great Brand Name May Not Be Enough
The company will have a difficult time regaining strength, said King.
"It's fair to say the Kodak brand, with its yellow-and-black corporate logo, is probably one of the most recognized brands in the United States as well as the rest of world," he observed. "But the company has made so many missteps regarding digital photography, it may be in a situation where a well-known brand isn't enough."
Kodak has had trouble finding footing in the digital realm. Its stellar history of success in traditional photography may not be enough.
"The company is trying to do everything it can to capture the lightning in digital photography, digital printing and social networking, but it may be too late to the party," King said.
Abandoning the Digital Camera Ship
Kodak's digital camera business has fizzled in recent years, and the company ran out of capital to pump it up. Its best option is now to move on, suggested Roger Kay, founder and principal of Endpoint Technologies.
"Kodak is basically out of gas," he told the E-Commerce Times. "It missed the boat on digital photography."
Although its portfolio of IP may have some value, noted Kay, "there is no second act for the company."