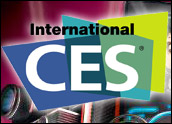 When the Consumer Electronics Show officially opens in Las Vegas on Tuesday, it will mark the last year of Microsoft's participation, the company announced in December. Apple has been missing from CES for years. Facebook will not be on hand. Google and Amazon will have little presence. The absence of key tech companies will leave giant holes next year.
However, CES boasts the participation of 2,700 companies this year, and its attendance is expected to surpass 140,000. The show is still gigantic.
Although some leading tech companies won't be creating a big presence at CES, their partners will certainly be on hand. Apple will be represented by roughly 300 companies that have grown up in the its ecosystem. They will be on hand to show off accessories and applications for the iPhone, iPad and iPod.
Big Year for CES
CES organizers are bullish on the show, pointing out that it is still the largest tech exhibition.
"We expect the 2012 CES to be our second biggest show in history," CES spokesperson Tara Dunion told the E-Commerce Times. "Every major technology company will participate in CES in some way, whether it's exhibiting, speaking, attending or networking."
The show is likely to make plenty of news this year, she said.
"We'll see several major announcements related to ultrabooks, OLED TVs, lifestyle technologies, car tech, electric vehicles, wireless charging — the list goes on and on," Dunion said.
Losing Microsoft Hurts
The absence of Microsoft next year will be particularly noticeable as the company continues its move toward consumer goods. From gaming to smartphone operating systems, the company is becoming a major consumer player.
"Microsoft is racing towards a consumer model, so not having them at CES will be loss," Steven Savage, technology project manager and Geek 2.0 blogger, told the E-Commerce Times.
One problem may be that January is an awkward time to debut products. Most companies release new products just before the holiday season.
A Simpler Show
Still, the absence of Apple for many years hasn't kept CES from maintaining its role as the largest tech show. The same will likely be true even when Microsoft disappears next year.
Apple's absence hasn't seemed to hurt the show much, Rob Enderle, principal analyst at the Enderle Group, told the E-Commerce Times.
"I think Microsoft just outgrew CES," he added. "Not having them at CES will make the show simpler, and it needs to be simpler."
The timing for CES has become a serious problem, in Enderle's view.
"This was supposed to be a fall show, but vendors just aren't ready to launch many fall lines by January," he said. "In addition, the proximity to year-end put massive pressure on the companies to close out the prior year."
There are some advantages to a show in January, suggested Enderle. For one, it gives analysts and the press something to write about during a period that otherwise tends to be quiet.
"It is a fun place to go in a slow month and see new products," said Enderle, "but it's an anachronism left over from the 1990s before the Internet. It needs to adjust, or it is likely to become the next Comdex by decade end."
From Microsoft to Qualcomm to Networking
There has been a shift in the type of products that are getting the attention at the show, and new companies may quickly fill the hole Microsoft leaves behind, suggested Azita Arvani, principal of the Arvani Group.
"CES is concentrating less on car and home stereos and more on mobile devices," she told the E-Commerce Times. "In terms of key exhibitors, CES might have lost Microsoft, but Qualcomm is playing a stronger role, and Qualcomm's CEO is doing the keynote speech on the official start day of CES."
Still, the idea of a single annual event may no longer be sustainable, given the number of technology and product announcements, suggested Arvani.
"Technology just moves too fast," she said. "Yet CES provides a pretty good annual snapshot for seeing the latest products and technologies."
Even if the show no longer draws the tech industry's headliners, it still brings the sector together, noted Arvani. "Even companies that do not necessarily exhibit, send delegates to take advantage of the opportunity to make some deals and network."