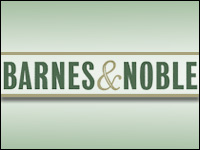 The Kindle Fire may have singed Barnes & Noble's Nook this holiday season. On Thursday, B&N lowered its fiscal 2012 forecast for Nook sales from US$1.8 billion to $1.5 billion. The company is also mulling a spinoff of its Nook e-reader business.
B&N's share price dropped more than 20 percent on the news. The company has pushed a large investment into the production and sales of Nook e-reader devices, so the lowered forecast has investors worrying about the retailer's ability to compete with Amazon's Kindle e-reader.
Although B&N is in discussions with partners, publishers and retailers in international markets that may lead to a Nook expansion abroad, there is no assurance that the talks will end in a separation of the Nook digital business, and there is no timetable for the company to conclude its review of the matter.
The retailer expects a loss of up to $1.40 per share in the fiscal year ending in July, much worse than analysts' average estimated loss of 63 cents. Barnes & Noble blamed increased investing in Nook and a smaller sales total of the Nook Simple Touch for the lower forecast.
B&N did not give out numbers but said total sales of Nook devices rose 70 percent during the holiday shopping season. Hardware accessories and digital content rose 43 percent, and store sales rose 2.5 percent to $1.2 billion. Barnes & Noble attributed that growth in part to the closing of one of its main rivals, Borders.
Spinning Off the One Good Unit
The Nook is a fine e-reader, by many accounts, but even though it's a strong seller for Barnes & Noble, it hasn't whipped up the frenzied interest enjoyed by Amazon's Kindle Fire.
"My guess is Barnes & Noble took a huge hit this holiday season due to the wildly popular Amazon Kindle Fire," Stephanie Ethier, senior analyst at In-Stat, told the E-Commerce Times. "For anyone looking for an iPad-alternative, it would be a choice between the Color Nook or the Kindle Fire."
The Fire's content and hardware offerings are quite compelling, she noted. "For $199, the Kindle Fire was a much better deal than the $249 Color Nook, so, the Fire won out last quarter. Also, Barnes & Noble was banking on better sales of its $99 Simple Touch. Today's consumers are looking for more."
Barnes & Noble may be losing its one growth driver, Ethier observed.
"If it spins off the Nook line, it would look a lot more like Borders," she said, "and we know how well that went for Borders."
High-Growth Unit
The Nook business is a different type of business than a bookstore. That may be part of the reason Barnes & Noble is considering spinning if off.
"Nook is a growth franchise for Barnes & Noble, based on its ability to provide a quality media consumption experience delivering its content, whether it be the written word, audio, or video," Jeff Orr, group director of consumer research at ABI Research, told the E-Commerce Times.
The Nook represents a departure from the company's retail book, game and toy-selling business, Orr noted.
"The current Nook products are only distributed within the United States through company-owned stores and retail partners," he said.
Very Different Products
The Nook is an electronic product, which is a big departure from the traditional bookstore business model. Its product development and sales strategy require very different types of expertise.
"Developing hardware for the various Nook devices is a very different business than what has been Barnes & Noble's core distribution aptitude," said Orr. "ABI Research believes this wholly unique research and development investment is motivation for the company to examine options for separating or selling the Nook business."
It is likely that Barnes & Noble will look to a strategy that focuses on content distribution to the Nook and other technology devices to promote the corporate brand, he suggested, without having to invest 100 percent in hardware development.