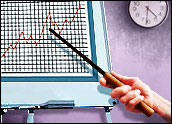 More than a quarter of U.S. adults now own either a tablet or an e-reader. Sales of these relatively new devices boomed over the holiday season, according to a study from Pew Research Center released on Monday.
In mid-December, 10 percent of the U.S. population owned a tablet. By early January, the number had nearly doubled to 19 percent, according to the research. E-reader ownership tracked roughly the same numbers, moving from 10 percent to 19 percent over the holiday gift-giving season. The percentage of people who own either a tablet or an e-reader soared from 19 percent to 29 percent.
While young users typically lead adoption in consumer electronics, it was the 30- to 49-year-olds who nabbed tablets and e-readers. They were followed by those aged 18 to 29. The majority of tablet and e-reader owners earn more than US$75,000 per year.
Pew's study was based on three surveys: a preholiday survey between Nov. 16 and Dec. 21 that polled 2,986 adults, a post-holiday study of 1,000 adults conducted between Jan. 5 and 8, and another polling of 1,008 people from Jan. 12 to 15.
Surprising Numbers
Even the researchers did not anticipate the rapid rate of growth for tablets and e-readers.
"We were surprised by the overall numbers. There had been a lot of buzz in the trade press about both devices being popular holiday gifts, but no one here at Pew expected the adoption numbers to double in a month for both devices," Lee Rainie, director of the Pew Research Center's Internet & American Life Project, told the E-Commerce Times.
Pew has never seen such a spurt of growth in the 11 years the organization has looked at tech adoption and usage, Rainie said. "More than a quarter of American adults now have one of these devices," said Rainie. "Their arrival in the marketplace has been a huge disruption for every imaginable media company and everybody else who is in the knowledge business."
Who Are the Early Adopters?
Those buying tablets and e-readers tend to be well-educated. They also have above-average income.
"The traits of early adopters, here and in previous hardware and software releases, include those with relatively high levels of education and relatively high levels of income," said Rainie. "They have relatively cosmopolitan lifestyles and attitudes."
Early adopters are also more likely to feel technologically proficient, and they are more likely to have attitudes and social networks that encourage them to be interested in new things, Rainie noted.
The Future for Tablets
Future growth in the tablet market could last several years.
"Tablets will become a significant product category in its own right, alongside smartphones and notebook PCs," Peter King, director of Tablet and Touchscreen Strategies at Strategy Analytics, told the E-Commerce Times. "We have barely scratched the surface of what tablets can and will do in the vertical and enterprise markets. Plus, there will be significant consumer adoption."
More people will choose tablets over traditional computers, print publications or television, King expects.
"Tablets are a way to get quick news headlines and to read long-form material," said King.
The Future for e-Book Readers
As for e-readers, the increasingly affordable costs of the devices are helping to drive sales.
"The price points are relatively low, and readers are getting used to consuming content this way," Roger Kay, founder and principal of Endpoint Technologies, told the E-Commerce Times. "The e-readers are convenient and give instant gratification." The tradeoff is that you don't get the tactile book experience that some people like, he noted.
The low prices on e-readers produced by content providers such as Amazon and Barnes & Noble could stymie the development of e-readers from non-content providers.
Content distributors "have the right economics to support the platform," said Kay. "Depending on how licensing works out, though, e-reader apps could be available on just about any platform."
A shakeout is coming for the e-reader market, according to King. The winners will likely include Amazon and Barnes & Noble, since they are the current leaders and because they can offset their production costs with content sales.
"Today there are maybe 30-plus e-reader manufacturers, but only two of them have double-digit market share on a global basis," said King. "We expect to see the e-reader market contract rather than expand, as the new breed of e-reading tablets cannibalizes the dedicated e-reader market."