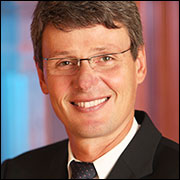 Research In Motion announced a change in management over the weekend, but it got the cold shoulder from Wall Street on Monday.
RIM's former coCEOs and cochairmen Mike Lazaridis and Jim Balsillie no longer hold those positions. Thorsten Heins is the company's new president and CEO. He was also appointed to RIM's board of directors.
The company named board member Barbara Stymiest its chairperson and, in what might be seen as a sop to institutional investors, added Prem Watsa, CEO of Fairfax Financial Holdings. Fairfax is among the top five institutional investors in RIM.
Heins, one of two executives responsible for software, hardware and engineering at RIM, promised to continue on the path already laid down by management. So far, though, he seems not to have impressed investors — RIM shares were down about 7 percent by Monday afternoon.
The change is positive and something investors have been looking for, but RIM should've appointed a CEO with a strong consumer electronics and supply chain background, Sterne Agee analyst Shaw Wu said in a note to investors.
"My view hasn't changed," Wu told the E-Commerce Times after he attended an analyst call with RIM Monday. However, "it's difficult to talk in absolutes right now," he cautioned.
Who's on First?
Lazaridis has been shuffled to the position of vice chairman of the board and chair of a newly established innovation committee, RIM announced. He'll work closely with Heins to offer strategic counsel, provide a smooth transition and continue to promote the BlackBerry brand worldwide.
Balsillie now continues to be a member of the board and a director, and he remains a significant shareholder.
Meanwhile, Lazaridis announced that he'll purchase an additional US$50 million RIM shares in the open market as permitted by regulations.
"Both men … can ask questions and advise but no longer play a significant role in day to day operations," Rob Enderle, principal analyst at the Enderle Group, told the E-Commerce Times.
The trouble is, founders "have a nasty habit of using their founder status to play in the company business and could still be a problem even on the board," Enderle warned. "If they do this, the resulting leadership uncertainty could make things worse."
Other Possible Options for the Chief
New RIM CEO Heins doesn't have an especially high profile in the investment community, and the company could have added new blood from outside instead of promoting Heins and appointing Stymiest to chair the board, Barclays Capital said in a note to investors.
RIM "is an engineering company, and the ideal candidate would have been someone with both strong engineering and strong marketing skills," Enderle suggested. "I'm not sure such an animal exists."
RIM to Keep On Keepin' On
Heins said he'd continue with RIM's plans to transform the BlackBerry platform by including technology from QNX, which the company purchased in 2010.
He also said that BlackBerry 7 was well received, and he indicated he will continue with the BlackBerry 10 and RIM's heavily criticized PlayBook tablet.
Heins pledged to focus on both short- and long-term growth, strategic planning, and a product approach that's focused on the customer and the market.
RIM's currently recruiting a new chief marketing officer, Heins stated.
The CMO will be "critical" because "if you're going to build a Hummer in a Toyota market, you have to be able to sell your advantages," Enderle said.
No Love From Analysts
RIM's removal of Lazaridis and Balsillie and the appointment of Heins to head the company was a step beyond what most investors had expected, Barclays Capital opined.
However, RIM doesn't have any new products in its roadmap before the second half of this year, and share prices are likely to decline significantly in the interim, so Barclays remains cautious about the stock.
Poor execution, uneven marketing campaigns and strategies, and poor technical decisions necessitated the management changes, Barclays pointed out.
RIM is a consumer company, with 60 to 70 percent of its business coming from that segment, Sterne Agee's Wu said. He remains concerned about RIM's competitiveness.
"If [RIM] can't create a favorable impression surrounding either their company or their products, they are done," Enderle stated. "Fixing that is job one."
RIM did not respond to our request for further details.