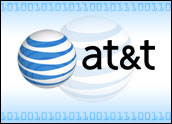 The chickens came home to roost on Thursday when AT&T took a US$4 billion charge for the failure of its attempt to acquire T-Mobile.
While AT&T's $32.5 billion in revenue beat estimates, and while the company reported 7.6 million iPhone activations — thanks to the iPhone 4S — it nevertheless suffered a fourth-quarter net loss of $6.68 billion, or $1.12 per share, compared with a profit of 18 cents per share a year earlier.
Share prices fell a dollar, from $30.5 to $29.5 on the news.
AT&T gained 717,000 subscribers on monthly contracts, far more than the half million projected by analysts. Its losses were due in part to better-than-expected success with the iPhone. Sign-ups prompt subsidy costs that are incurred before two-year subscription dollars are collected.
Going forward, AT&T will need to focus on the rollout of its 4G LTE network to keep pace with Verizon. Its 4G network currently covers less than half the number of customers as Verizon's network.
An AT&T spokesperson was not immediately available to comment for this story.
Where's the Bandwidth?
AT&T was seeking to expand its network through the accquisition of T-Mobile. Since the merger failed, it will have to find alternative solutions.
"At this point, the most likely course for AT&T seems to be to expand its own high-speed network assets and infrastructure," Charles King, principal analyst at Pund-IT, told the E-Commerce Times.
However, a solution isn't likely to come quickly, he said. "That sort of effort typically takes long term focus and investment that could impact the company's financial performance and its ability to effectively compete against Verizon and others."
AT&T has a number of options for adding spectrum, but some may be expensive.
"First, they could acquire spectrum in other ways, either trading spectrum with other operators or acquiring it outright," Allen Nogee, principal analyst for wireless technology at In-Stat, told the E-Commerce Times.
AT&T may try to offload some of its data burden to WiFi. In the last few years, the WiFi in smartphones has much improved, usually not heavily impacting battery life, observed Nogee. "The more data that can be offloaded, the more the cellular network doesn't need to handle."
AT&T could improve ground stations by either deploying small cell base stations or by deploying distributed antenna systems, he suggested. "These solutions make better use of the spectrum that AT&T already has."
The deployment of LTE will help, said Nogee.
"LTE is more spectrum-efficient than HSPA, so more bits can travel down the same size pipe — but the problem here is the iPhone doesn't yet support LTE," he explained. "But the next iPhone very well may."
Competing Without Verizon
With T-Mobile off the table, AT&T will have to rethink its competitive strategy. That means taking a different tack regarding Verizon.
"AT&T is not doing so great compared with Verizon," said King. "Despite enjoying a notable boost from holiday sales and the popularity of the iPhone 4S, AT&T only signed about two thirds as many new clients as Verizon did in the past quarter."
That performance highlights just how important the T-Mobile deal could have been to AT&T in terms of both expanded bandwidth and new customers, King noted.
While AT&T may have sold more iPhones, Verizon has been cleaning up with Androids.
"Verizon's iPhone activations were quite a bit less than AT&T's, at 4.3 million versus 7.6 million," said Nogee. "For Verizon, iPhones only represented 54 percent of the smartphone sales, but that is because Verizon does a better job selling its Android Droid line of phones, and maybe not so well with the iPhone."
AT&T Going Forward
As for the future, "the challenges are supplying the data demand of all their customers while doing it profitably," said Nogee.
SMS messaging is decreasing, while wireless data revenue should more than make up for that loss.
"As more other operators get their wireless 4G networks running, there may be more pressure on wireless data prices," Nogee observed.
AT&T recently increased its base prices while upping the data caps for their data plans, he pointed out. "In general, that move should bring in more money for data plans, which will help pay for other network improvements."