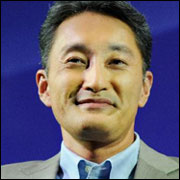 Sony announced on Wednesday that Kazui Hirai is being appointed as its president and CEO, effective April 1. Current Chairman, CEO and President Howard Stringer will become the chairman of the board of directors in June.
Sony has had a turbulent year, including several incidents in which it had to defend its systems from hackers, so a switch in leadership might help the company find a smoother road.
Stringer recommended that Hirai — currently executive deputy president — succeed him as president and CEO. Stringer will continue to serve as chairman of Sony until his promotion to chairman of the board, which will become effective following board approval after June's annual shareholder's meeting, when the current Chairman Yotaro Kobayashi will retire. Hirai is expected to be appointed to the board at the shareholder's meeting.
Sony Trying to Rebuild Its Global Identity
The switch could help Sony by altering its internal environment and changing how the company functions. A new leader can deliver a cultural change.
"If anything, I think it will help build the culture and identity within the company, but it will take some time to see if Sony can rebuild its global identity," Jim McGregor, chief technology strategist at In-Stat, told the E-Commerce Times.
One of Sony's problems is that the company tends to cater to its homeland instead of the global market, McGregor said. A change in management could take make the company more global.
Higher prices and stumbles in quality have not helped either. A change in management could result in a new vision for the company and ultimately a new image in the consumer electronics market, McGregor added.
Time for Sony to Quit Stumbling
One of the changes Sony needs is a new focus on technology. A new CEO could help Sony turn more to technology improvements.
"Hirai seems to be a good choice, he seems to get technology — he's shrewd and he's practical," Steven Savage, technology project manager and Geek 2.0 blogger, told the E-Commerce Times. "Sony's throw-it-at-the-wall-see-what-sticks approach often serves it well, but in the age of highly focused, precise delivery of technology, it may not be viable anymore."
Hirai could help to change the perception of the company as stumbling, though he would have to institute some major changes to build new confidence in the company.
"Sony is at times seen as behind the curve. Hirai has to update Sony with serious, value-delivering changes," said Savage. "He brings in a new face, which can help. Sony has a habit of being seen as 'just there.' New leadership will likely be taken as a positive. Just the resolution of all the rumors of a replacement will help Sony."
Sony Has Grown – Still Room for Improvement
Now that the company is leaner, it's time for Sony to show new strength and competence. The quiet time after the holiday season could give Hirai breathing room to forge a stronger company.
"Stringer has accomplished much of what he was hired for, mainly reorganizing and downsizing the company to capture increased efficiencies," Charles King, principal analyst at Pund-IT, told the E-Commerce Times. "Despite that, Sony's performance hasn't been what the BOD obviously hoped for. Some issues are obviously beyond Stringer's control — natural disasters and the financial meltdown — but the post-holiday shopping lull is a good time to elevate Hirai, who most have already considered Stringer's inevitable successor."
Sony needs to improve its position against competitors large and small — not a small task given the companies Sony faces.
"Despite being a more streamlined company today than it was when Stringer took over, Sony continues to struggle against nimbler competitors," said King.