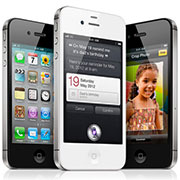 Apple came close to matching Android's smartphone market share during the fourth quarter of 2011, according to a Nielsen report released Wednesday. The debut of Apple's iPhone 4S in the fall had a major impact on the proportion of smartphones sold in the quarter.
Demand for iPhones increased nearly 20 percent in December compared to three months earlier, Nielsen found. However, Android remains the most popular smartphone platform overall.
Prior to the launch of the iPhone 4S, Apple's marketshare among recent smartphone buyers had been 36 percentage points behind Android's. Apple had 25.1 percent share compared to Android's 61.6 percent. By November, that gap had narrowed to less than 10 percent. In December, it closed to a mere 2.5 percent.
RIM's BlackBerry platform came in a distant third, with 14.0 percent of the market, followed by Windows Mobile, which held just 4.6 percent. Platforms such as Palm, Symbian and Windows Phone 7 each claimed less than 1.5 percent market share.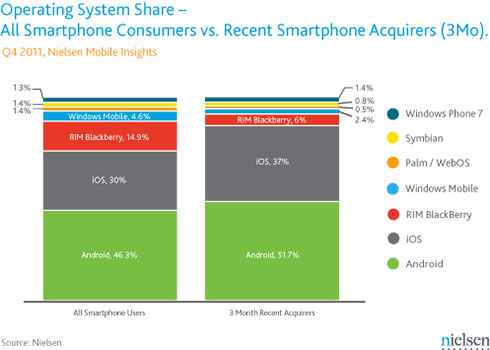 Cool Facts
Other interesting findings from the report:
The majority of 25-24 and 18-24 year-olds now own smartphones (64 percent and 53 percent respectively)
The majority of smartphone owners have downloaded apps. Games top the apps
The number of smartphone owners using mobile Internet has grown 45 percent since 2010
Younger groups text the most. Teens 13-17 text the most, averaging 3,417 per month.
Few Apps Get Big Use
Nielsen researchers were less impressed with the horse race between Apple and Android than they were with phone usage. Apparently, having a few hundred thousand apps is not as important as having the right apps.
"The most surprising thing about the report is that the bulk of time on smartphones is spent on a relatively small number of apps," Don Kellogg, a Nielsen thought leader in the mobile space, told the E-Commerce Times. "We frequently hear about the hundreds of thousands of apps available on different platforms, but in reality it's far more important for a platform to support the right 50 to 100 apps as opposed to hundreds of thousands."
Apple's Surge
Some of the iPhone's fourth quarter sales came from delayed purchasing. The boom in iPhone sales in the fourth quarter was balanced by weakness in the third quarter as consumers waited for a new iPhone.
"We expected to see a massive bump in iPhone sales in that quarter," Michael Morgan, senior analyst for mobile devices at ABI Research, told the E-Commerce Times. "The size of the hit was impressive but not out of reality."
There was a lot of pent-up demand, Morgan noted, which created a bad third-quarter for Apple. Also, some users were attracted to the iPhone by new features offered on the 4S model.
The iPhone 4S hit at an opportune time for buyers.
"The incremental iPhone 4S refresh was just good enough to justify an upgrade for many Apple, Android, BlackBerry and Microsoft smartphone users as they came to the end of their contracts or started looking for an attractive Christmas present in the fourth quarter," Neil Mawston, director of global wireless practice at Strategy Analytics, told the E-Commerce Times. "A combination of upgraders, switchers and gift-givers drove the iPhone to higher volumes in the holiday season."
Android Will Keep Growing
Android will likely pull away from Apple in time.
"Android will absolutely come back," said Morgan. "This is part of the pattern for Apple. A new product and a really big bump."
iPhone sales will trail off when it gets to the end of its device cycle, he noted. Unlike Apple, Android sales are not dependent on annual upgrades or new product introductions by one phone manufacturer.
"No one [product] can have an impact on the Android ecosystem — the growth is consistent," observed Morgan.
Two phases will send Apple to a more-distant second place — months between new phones and the inevitable drop in late summer as users wait for the next iPhone.
"We expect Android to lose share to Apple in the near-term but then recover a little market share around the middle of 2012 as iPhone buyers hold off and await the next iPhone upgrade in the second half of the year," said Mawston.
What About RIM?
RIM has been sliding toward the bottom of the market for many quarters. The question becomes, can the QNX platform turn things around for the beleaguered company?
"RIM may be RIP," said Morgan. "They're addressing their execution issues, their ability to get a device out on cycle."
However, getting QNX — RIM's new smartphone platform — up and running was a bigger problem than expected, he noted.
"It may not be until the end of the year that they'll get QNX up on a smartphone," said Morgan. "Can they live on their current products until then?"
While RIM is betting heavily on QNX to turn things around, that may be a difficult task if it doesn't bring new functionality to the market.
"RIM's QNX platform and ecosystem are still less mature than Apple's and Android's," said Mawston, "so the best that RIM can realistically hope for this year will be a stabilization of its U.S. Market share."