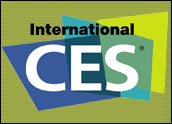 Microsoft's Steve Ballmer delivered his final Consumer Electronics Show (CES) keynote in Las Vegas on Tuesday. Ballmer talked up Windows 8 and discussed additions to the Xbox platform and new Windows-based Nokia devices. The presentation, which featured "American Idol" host Ryan Seacrest, kicked off the annual show.
Ballmer announced that Kinect will released for PCs on Feb. 1. Microsoft is also set to release a new Xbox app that will feature News Corp. publications.
Ballmer mentioned the new Metro User Interface, which is across all of the Microsoft experiences, and is designed to help people to connect directly with important features and friends. He emphasized Windows Phone's different approach, saying it puts people first. Windows Phone consolidates friend activity including texts, calls, Facebook and Twitter into one place.
Ballmer discussed the launch of the Nokia Lumia series of Windows Phones, including the Lumia 710 and Lumia 800. The presentation featured the unveiling of the Nokia Lumia 900 for the AT&T network. The HTC Titan II for AT&T 4G LTE network also made its debut.
The presentation included a demo for Windows 8, which is meant to blend the powers of a PC with the ease of a tablet. Windows 8 is reimagined to feature a Windows Phone-like tile-based homescreen. The new OS will be compatible with touch, as well as keyboard and mouse. Windows 8 seamlessly switches through its selection of apps from the global Windows Store that opens in late February.
Where's the Wow?
If Ballmer's performance didn't come with any strong wow factor, it could be because Microsoft has already focused its marketing elsewhere. This year, the company clearly wasn't planning to make a big splash at CES.
"Microsoft seems happy enough with 2011's results that there's little if any need to shake things up," Charles King, principal analyst at Pund-IT, told the E-Commerce Times. "There's justification for that — Windows 7 is a clear hit, as is Kinect for the Xbox."
With the addition of Microsoft CMO Tami Keller, the company's marketing has become more effective and pointed than it has been in years, noted King.
Ballmer came across calm and assured during the presentation — "very 'leaderly' in the sense of being careful and in control," King observed. "That said, while Microsoft certainly enjoyed some successes in 2011, the company's efforts in core areas — mobile, smartphones and online, search and cloud — continue to be less than stellar.
Ballmer's key message — that overall, nothing is more important at Microsoft than Windows — is fully understandable from a business standpoint, said King. "Yet the performance could also be interpreted as a quiet attempt to dial back expectations concerning Microsoft's efforts outside its core packaged software business."
A Not-Overwhelming Performance
"Ballmer had Ryan Seacrest, an entertainer, on stage. That tells you something," Laura DiDio, principal analyst at ITIC, told the E-Commerce Times. "Ballmer has moved past his over-the-top performances of the past. His performance at CEA was not overwhelming."
Part of the problem with the presentation, according to DiDio, was simply that the Windows Phone is a very small player.
"Some say Microsoft is out of the race before they even got into it," she said. "The CES performance didn't change that, because there was nothing new. He should have said, 'Here is what we're doing that no one else is doing.' He should have given us a product road map. But we're not seeing it."
Ballmer also erred by focusing on Windows, DiDio noted.
"He talked about Windows, but people have already called the PC dead," she pointed out. "People are ready to bury Microsoft alongside the PC."