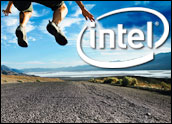 Intel has finally leaped into the mobile sector. CEO Paul Otellini announced the company's entry into the mobile processing market during a keynote address at CES on Tuesday.
Otellini revealed major agreements with both Motorola and Lenovo to put Intel inside smartphones. Intel will show up in Lenovo phones in China during the first half of 2012 and in Motorola handsets this year.
Motorola Mobility CEO Sanjay Jha joined Otellini on the CES stage to announce a multiyear, multidevice agreement to include Intel's Atom processor Z2460 platform — formerly known as "Medfield" — in Android phones starting in the second half of 2012. The collaboration will also include tablets.
Otellini was also joined on stage by Liu Jun, Lenovo's SVP and president of Mobile Internet and Digital Home. They debuted the Lenovo K800 smartphone, based on Intel technology and running on the Android platform. Liu Jun noted that the device will be available in China during the second quarter of this year.
Intel did not respond to our request for further details.
Fits and Starts
In recent years, Intel has talked about entering the mobile market, but the efforts have not produced significant results. This time, the company appears to be serious.
"The fact that brands are announcing Intel's involvement is encouraging," Allen Nogee, principal analyst for wireless technology at In-Stat, told the E-Commerce Times.
While the announcement of Intel's involvement with major smartphone producers is impressive, that will not ensure its position as a player. The mobile market is intensely competitive, and Intel is late to the party.
"There are many processor brands and only a few models of smartphones, so just being in phones will not be a guarantee of success," said Nogee. "Qualcomm is the leader in smartphone processors, and their leadership will be very tough to disrupt."
Staking Out Its Territory
While the impact of Intel's entry into the mobile market will take some time to assess, it's clear this is a big splash in the smartphone waters. Its alignment with two major partners says a lot.
"The launch of Medfield and Intel's commitment to produce commercially available handsets this year is a stake in the ground by Intel," Scott Bicheno, senior analyst of wireless smartphone strategies at Strategy Analytics, told the E-Commerce Times. "After promoting Moorestown two years ago without any subsequent product in the market, this is a statement from Intel that the company is finally in the handset game."
The real proof will come when third parties get their hands on these Medfield phones and test them, noted Bicheno.
"The statement of intent from Intel is bound to grab the attention of the major ARM-ecosystem players, such as Qualcomm and Nvidia," he said. "You have to wonder, however, if performance parity will be enough to take significant market share from the incumbents."
Why China?
While it may seem odd that a Silicon Valley company would debut its technology in China first, the move may make sense. For one thing, China is huge.
"The decision could have been made for a number of reasons," said Bicheno. "China overtook the United States to become the world's largest smartphone market in the third quarter of 2011, so if you're going to start with one country, why not the biggest?
Also, Intel may have faced lower barriers to entry there, he noted. "Don't forget — Lenovo is currently focusing on the Chinese market for its smartphones."
Going for the Growth Market
The PC market has peaked — real growth won't from desktops and laptops.
"While Intel still dominates the market for PC and server CPUs, these are mature markets, and there is much greater growth potential for Intel in mobile devices," said Bicheno.
"The main challenge for Intel is to deliver chips that compete with ARM on power efficiency — with all-day battery life considered a minimum by most end-users," he added.
Intel will also need to make sure it can match the performance of current smartphone technologies.
"The Intel experience on Android has to at least match ARM," said Bicheno. "This is why the strategic partnership with Motorola takes on extra significance."