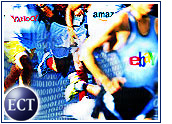 It's said that imitation is the sincerest form of flattery. If so, there are a lot of wet kisses being blown back and forth between the largest and best-known e-commerce companies.
Yahoo! (Nasdaq: YHOO) is the latest to dye its hair the same color as all the others. On Tuesday, the Internet portal unveiled a plan to integrate used items, closeout items and auctions into its existing shopping hub.
Sound familiar?
It should. Amazon.com (Nasdaq: AMZN) does it. Search for a book published more than a few weeks ago and you'll get an offer to buy a used one instead of a new one.
And eBay (Nasdaq: EBAY) is actively working to do it better than anybody else, by merging Half.com and eBay into one big happy family, where virtually everything and anything can be bought, sold, bid on or haggled over.
X, Y and Zzzzzz
Now, it's not impossible that the three amigos arrived at the same strategic business conclusion independently.
It makes sense, after all. If Customer X is looking for Product Y, X may not care if Y is new in the box or smelling faintly of mothballs. Why not cast as wide a net, offer as varied a menu as possible?
The only thing is, the decisions to forge this multi-tiered sales model haven't exactly been reached simultaneously. In fact, the three have played a game of strategic hopscotch for a while now, and it's getting nauseating to watch.
One by one they have all added e-commerce services, doing for others what they did for themselves. Keeping up with the Joneses is one thing; keeping up with two Joneses must be exhausting.
All Together Now
Yahoo!, Amazon and eBay share common visions and have tried to share employees, though things may be getting a bit too cozy in that department, judging from the lawsuits flying back and forth between eBay and Amazon.
But why shouldn't they have an exchange program? They're practically the same company — just with different balance sheets. In fact, it's as if they've all put their money on the same horse in the same race — Newanduseditemsgalore to win the Derby.
Can they all win? Probably not — or at least not in the way they hope to. Remember, as more people bet on the same horse, their potential winnings go down. The pool has to be divided that many more times.
Choice? What Choice?
In all of this, though, unless hybrids are your thing, the real downside is for consumers.
Want to visit an online super-site that offers only new items for sale? Sorry. Want to visit a popular Web site that deals in auctions — and only in auctions? Out of luck.
I'm all for survival and I'm glad to see the battle being joined, the various combatants marching inexorably toward the center of the ring where they will shadow-box no more. Things are going to get interesting on the competition front.
But at the same time, they're getting less interesting for us shoppers. The day will come when I've typed in a domain name, find myself on one of the sites, and realize after a while that I can't tell where exactly I am. Did I type eBay or Amazon or Yahoo?
Before long, it might not matter.
What do you think? Let's talk about it.
---
Note:
The opinions expressed by our columnists are their own and do not necessarily reflect the views of the E-Commerce Times or its management.
---