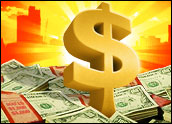 Take-Two Interactive's blockbuster second quarter — powered by strong early sales of "Grand Theft Auto IV" — may have implications for the ongoing efforts of Electronic Arts to acquire its main competitor.
"Grand Theft Auto IV" set records as the best-selling entertainment product ever, Take-Two said, with 6 million units, or US$500 million worth of games, sold in the first week alone.
The strong early sales and other games in the pipeline prompted Take-Two to boost its third quarter forecast, calling for a top end of $375 million in sales, well above of analyst forecasts of $322 million.
Formal Discussions
Electronic Arts made an unsolicited tender offer to Take-Two shareholders in February, a $2 billion cash offer that represented a more than 60 percent premium over the smaller company's share price at the time. EA's offer took into account a strong showing for "GTA IV," it said. EA has twice extended its deadline for stockholders to tender shares, but has received only a fraction of what it needs.
Still, the blockbuster start for the game may embolden Take-Two to hold its ground. Take-Two is now actively exploring "all strategic alternatives, including remaining independent and pursuing business combinations with third parties," said company Chairman Strauss Zelnick.
"We said we were willing to begin formal discussions with interested parties on April 30 following the launch of 'Grand Theft Auto IV,' and we are actively engaged in that process now," Zelnick commented. "In fact, we have had and continue to have formal discussions with a number of interested parties," he noted, adding that he could not disclose additional details.
Raising the Bar
Take-Two shares managed to climb modestly in Friday morning trading despite a market roiled by a dour unemployment report and a surge in oil prices, gaining a fraction of a percent to $27.70. EA stock, meanwhile, was down 1.5 percent to $48.79.
The company's revenue more than doubled to $539.8 million, compared with $205.4 million the year before, while net income was $98.2 million, compared with a $51.2 million loss in the year-ago quarter.
GTA's success will make it more difficult for EA to convince shareholders its offer is adequate, Wedbush Morgan Securities analyst Michael Pachter told the E-Commerce Times.
"EA has said it's not going to raise its bid, and there is bad blood between the sides because Take-Two didn't respond right away to the offer," he said. "A stronger Take-Two — and it's clearly stronger now — just adds to the roadblocks."
Take-Two used the GTA revenue to pay down $20 million of debt and added $18 million to its cash position, it said.
Take-Two did spend $3.8 million in the quarter responding to EA's offer, but Zelnick noted that the company's development teams have not been distracted by the takeover bid drama. "I think everyone's done a remarkable job staying focused."
Take-Two's product pipeline for the coming year remained robust, including "BioShock" for the PlayStation 3 and a host of sports titles, it said. The company is also pushing back the release of so-called episodic "GTA IV" content for the Xbox 360 to the first quarter of 2009 in order to better balance its release schedule.
"We are confident in our ability to continue to perform for the balance of the year," said CEO Ben Feder.
Getting Bigger
Video game development remains driven by hits, and for the time being, Take-Two appears to have the year's biggest success on its hands. The game will likely join select company with more than 10 million copies sold. That type of revenue and profit will help support additional development and fund other costly initiatives, such as Take-Two's efforts to move into the Asian market with online games, Yankee Group analyst Michael Goodman told the E-Commerce Times.
EA has its own hits, of course, but by merging it could further shorten the gap between those blockbusters and also reap considerable game-development efficiencies, especially in the sports title area, where the two companies publish a host of competing titles.
"The quest to merge is all about scale, but the fact that the target does have one of the biggest games of the past decade on its hands changes the dynamics considerably," Goodman said.
With the cash flow from "GTA," he added, Take-Two can improve its balance sheet and demonstrate to shareholders that it can thrive on its own.
The other strategic alternatives being explored will likely not include another direct merger, since there are few gaming companies with the scale to make that possible and because game console makers, such as Microsoft, Nintendo and Sony have shown little appetite for acquiring game publishers of late, Goodman noted.
The Federal Trade Commission, meanwhile, has asked EA to hold off on finalizing any deal for Take-Two until it can conduct a preliminary review of the merger's implications. EA has agreed, a move that essentially further extends the deadline for Take-Two shareholders to tender their stock.