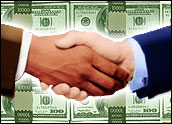 Verizon Wireless confirmed Thursday that it will buy Alltel Wireless in a deal worth US$28.1 billion, one that will help it reach new markets and push it ahead of AT&T as the largest wireless carrier in the U.S.
The move comes just a year after a group of private equity players took Alltel private. Verizon Wireless will pay $5.9 billion in cash and take on $22.2 billion in debt on the company's balance sheet as part of the transaction.
The acquisition will leave four main national players in the wireless space, with AT&T and Verizon Wireless the clear Goliaths, along with No. 3 Sprint and fourth place T-Mobile.
An Extensive Reach
Though it has long lagged in terms of subscribers, Alltel has one of the largest mobile networks, with extensive reach into more rural and remote areas in 34 states. In fact, Verizon Wireless has long resold access on some of Alltel's network to its own customers.
With Alltel's 13 million customers on the rolls, Verizon Wireless — a joint venture between Verizon Communications and UK-based Vodafone — will leapfrog AT&T to become the country's No. 1 mobile service provider, with 80 million subscribers compared with about 71.4 million for AT&T.
"Readily attainable synergies" will drive annual cost savings of up to $1 billion within two years of the closing of the purchase, said Verizon Communications CEO Ivan Seidenberg. Some of the savings will come from Verizon no longer having to pay fees for the right to use Alltel's rural networks, though the company did not rule out layoffs and other cost-cutting moves.
Verizon shares surged higher, by 6.5 percent, in midday trading Thursday to $39.37.
Modest Return
The deal provides an exit strategy for the private investors who purchased Alltel last May in a deal worth $27.5 billion, with a return of just over 2 percent for those backers, who included TPG Capital and Goldman Sachs Capital Partners.
At the time, those investors believed the company was undervalued and felt that with strategic direction changes, additional value could be unlocked, telecom industry analyst Jeff Kagan told the E-Commerce Times.
The private backers bought Alltel just as the economy began to slow and as overall growth in wireless subscriptions leveled off as the market reached saturation, he said.
"That left the new owners of Alltel stuck with the property," Kagan added. "The slowing market growth means that in order to grow, wireless carriers have to not only continue doing what they have already done, but also focus more on winning business in the marketplace from their competition, and on acquisitions."
The demands of the firms that financed the take-private transaction drove the sale to Verizon, according to The Wall Street Journal, which reported on Wednesday that the deal was imminent. Those investors had apparently been unable to re-sell their debt due to the corporate credit crunch.
Reviews Ahead
Verizon grabbing Alltel is a reminder that growth is becoming harder to find for even the top wireless companies. AT&T and Verizon have benefited recently from the struggles of Sprint but face a market that is maturing rapidly.
Though the earlier wave of consolidations in the telecom space left few acquisition targets, there are other second-tier carriers that could become ripe for the picking if AT&T feels the need to respond, Kagan said.
"There are several other companies in that tier 2, and regional space that could also be part of this next wave of acquisitions," he commented.
The Federal Communications Commission and the Department of Justice will each review the merger, and could require Verizon to divest itself of some of network assets in places where the two companies' assets overlap. Still, regulators have let most of the major mergers move forward with few concessions and restrictions in the past.
Though AT&T and Verizon dominate the wireless landscape, Alltel has been able to use its size to innovate and roll out new services quickly in recent years, JupiterResearch analyst Julie Ask told the E-Commerce Times.
"They were innovative with their friends and family circle plan, being first to market in a category," Ask said. "Hopefully, this tradition of innovation with new product rollouts will continue."
The deal may turn the focus back to Sprint, which has been burdened by its own debt and is betting heavily on its WiMax joint venture to help it carve out a profitable market niche for itself in the future. "The question now becomes whether Sprint still has the scale to compete with the other big players," Ask said, noting that while smaller, T-Mobile has the deep pockets of Germany-based parent Deutsche Telekom.