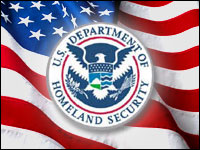 Verizon Business has won a massive government contract to deploy and manage a global IP network for the U.S. Department of Homeland Security (DHS). The contract is for a cool US$678.5 million over 10 years, and to bank the bucks, Verizon will act as the primary service provider under the DHS OneNet program, an advanced next-generation network effort designed to consolidate multiple legacy networks into a new, secure IP network.
Under terms of the agreement, Verizon Business will help 22 agencies combine multiple separate wide area networks onto one common and secure IP network — and then manage and secure more than 5,000 agency sites worldwide. Plus, Verizon Business has committed to implementing a Security Operations Center (SOC) for DHS.
The deal is part of an even bigger set of federal contracts set aside for telecommunications and IP services, called "U.S. General Services Administration (GSA) Networx." GSA Networx, in turn, is broken into Networx Universal and Networx Enterprise, both of which are designed to modernize governmental telecommunications and IP services. This latest deal falls under Networx Universal and is in many ways an extension of contracts that were the predecessors of the Networx program.
Huge Victory or Business as Usual?
"This is a huge victory for Verizon, and part of the reason is that DHS is a huge customer and they received the dominant share of the business," Warren Suss, a federal analyst and consultant for Suss Consulting, told the E-Commerce Times. Verizon, he noted, is also in a prime position for any expansion of the contract for DHS moving forward.
"The second reason why this is a huge victory for Verizon is this is one of the first very large open competitions on the Networx contracts," Suss explained. "The prior one with Treasury was really a re-award of a previous AT&T award — this one was a full open competition, and the Verizon Business team was able to pull off a dominant victory."
Verizon's entire business lineup generates more than $90 billion in annual revenue, and while $678 million is a big contract, it's still a small piece of the overall pie.
"Any contract is a big deal, and a large multi-year government contract is a big deal … but this is also ordinary business for one of the big telecommunications companies," Jeff Kagan, a telecom industry analyst, told the E-Commerce Times.
"The big telecommunications companies continue to win big contracts like this, and they compete over price. Who knows who will get it next time? It doesn't mean that Verizon is better than anyone else, it just means that the federal government negotiates between the major players," he added.
Second Place Not So Shabby
At the same time Verizon scored big, AT&T also walked away a winner — DHS awarded AT&T Government Solutions a $292 million contract to serve as the secondary network service provider in the Eastern and Western regions for the OneNet effort.
Regardless of the cash value of the contracts, the OneNet program and the efforts of the DHS and Networx contracts speak to bigger issues.
"One of the major threats to our country and to our government is the threat of cyber security, and as more governmental functions are provided over the network, the ability to provide a secure, reliable set of network services becomes more important to our continuity of government — to our ability to deliver services to our citizens under any circumstance," Suss said.
"I think this award represents not just yesterday's connectivity to get information from point A to point B, but it also represents an attempt to provide an absolutely fail-proof, robust network solution that will provide some of our government's most important agencies with the ability to function under the most difficult of times," he added.