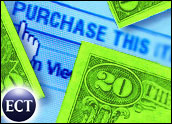 A variety of retail-watching experts are churning out Black Friday sales facts, figures and customer inclinations, and while it wasn't a rip-roaring Black Friday compared to previous years, it wasn't all that bad — particularly for the hot-selling consumer electronics sector.
Comparison shopping site PriceGrabber.com, for instance, is reporting that adverse economic conditions have motivated value-driven customers to boost online traffic 11 percent over last year's Black Friday. PriceGrabber.com data shows that online consumers gravitated toward promotions of popular electronics, including flat-panel TVs, Blu-ray disc players, digital SLR cameras, laptops and video game consoles.
"PriceGrabber.com saw an 11 percent increase in traffic this Black Friday compared to Black Friday 2007. Despite the economic conditions, consumers are looking for value — 71 percent of respondents in our recent survey indicated that they would be spending less on holiday shopping this year, and 55 percent said they would do the majority of their holiday shopping online," Ron LaPierre, president of PriceGrabber.com, told the E-Commerce Times.
"This, combined with the increase in traffic to our site on Black Friday, keeps me hopeful that this holiday season will be a good one for us," he added.
PriceGrabber.com also noted that some customers would focus on useful gifts.
On the practical side, women's boots showed a whopping 203 percent growth, which was bested by 415 percent growth in women's sleep and lounge wear. To compare on the tech side, Blu-ray and DVD players grew 147 percent, followed by music and headphones.
More specifically, the Nintendo Wii game console and the game "Wii Fit" were both popular, along with these particular electronics:
Sony BDP-S350 1080p Blu-ray disc player
Samsung LN52A650 52″ LCD TV
Panasonic TH-42PX80U 42″ plasma TV
Sennheiser HD 555 Headphones
Canon EOS Rebel XSi Black SLR Digital Camera Kit
Acer Aspire One AOA110-1295 notebook
Canon PowerShot A590 IS black digital camera
eBay Says 'Wii!'
Online auction powerhouse eBay, along with its Shopping.com site, has reported that the Nintendo Wii was the most popular product on eBay over the holiday weekend, selling more than 3,100 units with at an average price of US$349. "Wii Fit" sold 1,059 units on the auction site for an average of $140.
Other tech items sold well too, eBay reported. On Shopping.com, a GPS navigation unit sold every nine minutes, and an MP3 player sold every 11 minutes. Additionally, the hottest products on eBay in this category included the Garmin Nuvi GPS and the iPod touch, with 596 and 415 units sold, respectively.
The Apple iPhone 3G's average price was $547, and the BlackBerry Storm sold for an average of $577. eBay also mentioned the BlackBerry Curve and the T-Mobile Sidekick as popular phones, but the company didn't break out total sales for electronics other than the aforementioned units.
In addition, data from eBay's PayPal payment processing system saw 34 percent more transactions than 2007 and showed a 26 percent increase in online payment volume on Black Friday.
Online Retail Spending Up a Point
Black Friday saw $534 million in online spending, up 1 percent, according to research firm comScore. For the combination of Thanksgiving Day and Black Friday, online sales were up 2 percent relative to last year. So how does this compare to last year's growth rates?
"To put it in perspective, last year's holiday season saw e-commerce grow at 19 percent. For 2008 to date, we are running at minus 4 percent," Andrew Lipsman, a senior analyst with comScore, told the E-Commerce Times.
"If economic conditions were more similar to last year, we would definitely expect growth rates to be substantially higher," he added, noting, "The results for Black Friday were not particularly surprising given that it's reasonably consistent with what we've been seeing online amidst the current economic climate."
For the month of November, comScore reported holiday season sales to be $10.4 billion compared to 2007's $10.8 billion. Thanksgiving Day sales were up 6 percent, however, possibly due to "early" online sales deals levied by online stores looking to catch holiday dollars before the Black Friday brick-and-mortar rush.
"It's probable that on Black Friday, consumers responded positively to the very aggressive promotions and discounts being offered in retail stores, so it will be important to see how they respond to similarly attractive deals being offered online on Cyber Monday, the traditional kick-off to the online holiday shopping season," noted comScore chairman Gian Fulgoni.
National Retail Federation
The National Retail Federation (NRF) reported that "retailers across the country are breathing a collective sigh of relief after shoppers headed to stores and Web sites in droves over the weekend." More than 172 million shoppers visited stores and Web sites over Black Friday weekend, up from 147 million shoppers last year, according to the NRF's 2008 Black Friday Weekend survey, conducted by BIGresearch.
Those shoppers spent more, too — an average of $372.57 this weekend, up 7.2 percent over last year's $347.55. Total spending reached an estimated $41.0 billion, which includes online sales. The NRF reported that 35.9 percent of shoppers purchased consumer electronics.
And What About Apple?
iPhone and iPod maker Apple had a Black Friday sale of its own, but it didn't offer any discount on iPhones, and most of the discounts it did offer were less than expected, suggesting that the company's present financial quarter may be on track.
Apple's discounts on iMacs and MacBooks pricing was similar to previous years, and the iPod deals were also similarly lackluster, saving buyers just 5 to 10 percent.