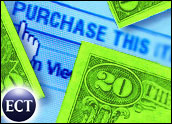 Innovative retailers are breaking new ground through the use of cross-channel technologies. These companies are setting the stage for a new retail playing field where cross-channel techniques cannot be ignored.
So, what exactly is cross-channel retail? Cross-channel retail is all about delivering a seamless customer experience across multiple sales channels. It is the strategy of sharing and selling products across different channels through to the same customer. It's critically important because cross-channel shoppers — those shopping online, in your store and by phone — are your best customers. These customers typically spend up to 30 percent more than single-channel shoppers.
Online spending is now a significant percentage, representing more than 20 percent of overall retail revenue by the end of 2008. Consumer expectations for seamless cross-channel shopping have increased in parallel, according to a recent AMR Research report. Retailers, however, are facing two major obstacles: a lack of cross-channel operational efficiencies and lingering technical shortfalls.
Redefining the Customer Experience
New cross-channel solutions allow retailers to redefine the customer experience, improve merchandising, overcome inventory challenges, capture lost opportunities, take advantage of real-time demand information and achieve operational efficiencies never before possible. Innovative cross-channel solutions include next-generation e-commerce systems, which include:
in-store and online merchandising functionalities that capitalize on consumer demand preferences;
the ability to order merchandise online and pick it up in-store or have it delivered directly to the customer;
purchasing and utilizing gift cards and loyalty programs across any channel; and
launching marketing campaigns and promotions, which can be used both online and offline in the stores.
Many new solutions include cross-channel business intelligence and e-marketing systems, guided selling and endless aisle capabilities by accessing inventory across the retail chain and by generating online transactions from the store via the point-of-sale (POS), kiosk or handheld devices as well as order management.
By creating a seamless cross-channel environment, retailers are able to realize inventory optimization, achieve more effective assortment planning based on accurate cross-channel demand, create greater inventory turn across the chain, increase sales, improve profitability and experience higher levels of customer satisfaction.
Recovering Lost Sales Opportunities
The value of recovering lost sales using effective cross-channel e-commerce can be immense for a retail organization.
The following is an example of how this increase in sales can be calculated:
Increase in total annual sales = # of recovered sales per day per store x average sale price x # of stores in chain x 360 days.
For example: If, on average, a retailer with 500 stores can capture an additional two sales per store at an average ticket price of US$60:
2 x $60 x 500 x 360 = $21.6 million in additional revenue per year.
In fact, retailers have been shown to experience the capture of more than two lost opportunities per day per store.
The Benefits of Cross-Channel Retailing
Through the implementation of cross-channel retail solutions, which will allow retailers to consolidate their multiple sales channels and inventories, retailers will see numerous benefits such as:
Increased revenues by using multiple cross-channel capabilities to effectively capture lost sales opportunities.
Cross-sell and up-sell opportunities during customer in-store pickup.
Improved overall customer satisfaction by offering more services in-store and online.
Better customer contact, communications and marketing through improved service options, enhanced personalization and business intelligence.
Lower order and fulfillment costs by improving merchandising and inventory management, streamlining fulfillment processes through distributed fulfillment capabilities, implementing intelligent order routing and shipping cost optimization and by lowering costly store-to-store transfers.
Extended capabilities of existing POS and WMS (warehouse management systems).
Superior merchandising decision making by obtaining new demand and forecasting information never previously available.
What Is Required for Success?
To effectively implement cross-channel retail e-commerce, several prerequisites are necessary to ensure success:
Accurate inventory information is a critical enabler for many of the key cross-channel solutions. The e-commerce platform can play an important role by managing the trickle polling across the entire retail chain to track chain-wide inventory information. However, this information is useful only if there are strong in-store inventory data management processes and systems in place.
For real-time cross-channel information to flow throughout the chain, it is necessary for the retailer to install secure high-speed Internet access throughout all store locations.
In addition to the cross-channel e-commerce technology, often the biggest factor affecting the success of cross-channel retail is the change which must occur within the organization. Retailers need to effectively train personnel on new cross-channel capabilities being offered by the chain. New cross-channel metrics need to become an important part of the overall business.

The way the retailer views and manages e-commerce must shift from a self-governing part of the business to a more integrated component of the retailer's overall operations.

New incentives must be strategically implemented to ensure that salespeople and store managers embrace these new cross-channel capabilities and understand their benefits.
Cross-Channel Touch Points
As we continue to delve into the importance of cross-channel retailing, it is important to note a few key concepts and strategies that lead to success:
Endless aisles.Customers are no longer limited to the product physically available within the four walls of the retail store. New retail platforms are enabling retailers to capture lost sales and further increase the overall satisfaction of the customer by creating an "endless aisle" environment within their stores. Instead of losing the sale because an item is not available in the store, shoppers can order from the store any products available within the chain through the online store, in-store kiosks, salesperson's handheld devices or directly through the POS. This is made possible by providing in-store sales personnel with the tools that provide them with up-to-the-minute exposure to the inventory across the chain down to the SKU level.
Guided selling. Through the use of cutting-edge wireless enterprise mobile sales tools, retail sales associates are empowered with a real-time handheld inventory and selling system. Handheld sales assistants provide sales associates with strategic information to convert a sale without ever leaving the customer. This technology allows for "guided selling," providing the salesperson with the up-to-the-minute inventory available to sell and suggests alternative products. It is integrated to company-wide stock information to ensure that every customer opportunity is maximized. In addition, salespeople can use the handheld assistants to access customer online browsing history as well cross-channel purchasing history.
Sales incentives. New incentives and tools to report on these cross-channel capabilities are an important step in the execution of cross-channel retailing. New systems create a framework enabling a comprehensive sales incentive contest for managers, supervisors and sales associates. The system allows retail organizations to increase sales associate productivity, provides real-time reporting on performance and areas where additional training is required and can be used to identify personnel who can be promoted.
Retail surveys. Retail survey systems allow retailers to better understand consumer behavior, measure customer experience and overall store performance. This technology empowers retailers by providing timely information on customer service, product selection, consumer satisfaction and other information by chain, region, store groupings and by individual stores. Cross-channel retail surveys are integrated with the retailer's point-of-sale and e-commerce systems enabling each to match customer responses to individual stores. Responses can be matched right down to the sales clerk who served the consumer. An added benefit, offering consumers a discount coupon on their next purchase has often resulted in additional incremental sales for the retailer.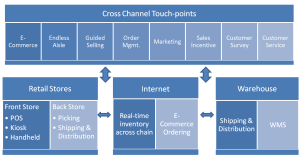 (click on image to enlarge)
As retailers explore these technologies, keep in mind that to truly harness the power of cross-channel retail, companies will need to:
Review the organization and processes related to cross-channel operations including inventory management across all channels.
Embrace a next generation e-commerce platform that can support the cross-channel business.
Implement the various cross-channel strategies listed in this article designed to significantly improve in-store and online sales, customer service, marketing capabilities and operational efficiencies.
Utilize the e-commerce platform to provide access to virtual inventory for products not physically available within the four walls of the store.
In addition to researching and implementing new technologies, retailers must remember to develop new cross-channel metrics, training and incentives to embrace these new sales tools. Metrics, employee training and creative incentives are important keys to success.
---
Irwin Kramer
is CEO of
iCongo
, a developer of e-business systems and software.
---