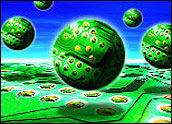 What is the biggest difference between shopping online and shopping in a store? In a store, customers can wander from place to place until they find something that appeals to them. Online, they usually need to have a good idea of what they are looking for in order to locate it.
A small but growing number of companies are trying to alter that equation by beginning to integrate 3-D technology into the shopping experience. As companies scramble to earn a bigger piece of the online shopping pie, their focus is shifting to how their products are displayed and how well (or not so well) potential customers can interact with the items.
Looking ahead, 3-D has the potential to substantially enhance the shopping experience. A customer can examine a pair of jeans from every angle or mix and match shoes, dresses, coats or belts to find the perfect outfit. With big ticket items, such as automobiles, companies could let potential buyers examine a car's interior more in-depth than before.
By investing in personalized 3-D shopping experiences, e-tailers expect to boost their bottom lines in coming years. The theory is shoppers will buy more if they can see how different items look. While progress has been made, more is needed before 3-D shopping is commonplace on e-commerce Web sites.
"There has been a trickle of 3-D features being incorporated into various Web sites; it not a technology that has been widely used to date," explained Susan Aldrich, senior vice president at Patricia Seybold Group.
Virtual Models
A couple of emerging technologies have the potential to dramatically change the online shopping experience. Avatars — virtual online characters designed to simulate human interactions — have made their way out of video games and into retail sites, and users are increasingly designing virtual models that resemble themselves and then using them to determine how clothing would look on them.
My Virtual Model fits into this category. With the service, users create 3-D virtual models and use them to try on clothing from participating apparel companies. H&M, Lands' End, Sears, Adidas and Speedo are some of the retailers who use the service.
In addition to trying on clothes virtually, consumers can compile a catalog of their favorite outfits, allow friends to rate their selections and post potential selections on their blogs. "Shopping is a social experience, and we want to simulate that online," Louise Guay, president of My Virtual Model, told the E-Commerce Times.
Online customers often miss the type of human connection they have with sales personnel in brick-and-mortar stores, so avatars are emerging on various Web sites that serve as shopping guides. When an avatar behaves in a seemingly social manner by employing specific social cues, customers often act as if the guide were a live person. The virtual shopping helpers can increase shoppers' intentions to purchase by increasing their positive emotions about certain products.
Downsides With Avatars
Avatars, however, should be used carefully, appearing only on the home page and other major pages, as they may become annoying and intrusive to users. Also, e-commerce sites need to be careful about whom they target with these shopping aids, and consider focusing on specific target groups — ones appropriate for a product or a service. For instance, a teenage shopper looking for accessories could find avatars helpful while a senior citizen examining various retirement investment options may deem them annoying.
In addition to helping shoppers, 3-D services are appealing to retailers on the back end. "With 3-D technology, retailers are able to test different store designs, layouts and merchandising to determine which design is most effective," John Butler, CEO of Kinset, told the E-Commerce Times. Previously, they would have consultants perform the live testing of different layouts, a process that required a great deal of time, resources and money.
Companies also are using 3-D technology to mimic store experiences, basically setting out all of their inventory out in a virtual store. Retailers can then give their online stores the look and feel of their real world counterparts, right down to the browsing ability. Brookstone was one of the first retailers to use the Kinset technology to replicate its stores online. Ideally, customers familiar with the physical store quickly find what they want online as their eyes scan the merchandise.
Prohibitive 3-D Costs
While 3-D technology has many potential benefits for e-commerce, there are associated roadblocks. First off, it's relatively expensive. The cost to digitize apparel can be more than US$1,000 per item. However, prices are expected to drop as the development tools become more standardized.
Also, 3-D programming tools can be cumbersome to use. In some cases, the required code tops multiple megabytes, so it takes users a long time to load the software and then display the items on their computer screens. Emerging standards, such as X3D, promise to cut the amount of code required from the multiple megabytes to hundreds of kilobytes.
Another problem is that retailers have more pressing priorities. "Many e-commerce suppliers are still in the process of putting their catalogs online," Patricia Seybold Group's Aldridge told the E-Commerce Times. Companies also have been striving to streamline product detail pages for faster download times and improve site navigation. These projects are less expensive and can offer a more immediate impact on their bottom lines than 3-D initiatives.
On the plus side, the use of 3-D technology in other industries could help to spur future adoption in the e-commerce market, as companies are experimenting with it in interactive training simulators, application simulations and virtual tours.