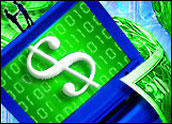 It may not have been noticed in the whirlwind of online transactions on Web sites like eBay or Amazon, but e-commerce turned 25 on Tuesday.
On March 4, 1983, the husband-wife team of Alex Randall and Cameron Hall quietly launched a business revolution that was then the stuff of dreams, when their year-old company, Boston Computer Exchange, sold a computer "on line" to a buyer in South America.
Randall and Hall had started their company as a clearinghouse for buying and selling computers at a time when PCs like the Apple 2, Tandy, IBM PC and Sinclair were first becoming available.
"Almost nobody outside of universities had computers," Randall told the E-Commerce Times. "But we could see it coming. It's like Bill Gates' story of having a computer in every home: We recognized that eventually you'd be able to trade all kinds of things this way."
The Long View
It required a long-range vision, Randall said.
"In 1983, the only people who had computers were bleeding-edge aficionados," he recalled. "The only thing we could trade was computer equipment. There was no market for fresh fruit delivered to your door. The only people out there were computer users and people looking to buy computers."
Randall said he and Hall developed a marketplace where computer users could upgrade from old units.
The two started at a meeting of the Boston Computer Society with trading cards and conducted hundreds of transactions over the phone. They began to dominate trading in used computers as a paper and pencil company, Randall said.
They then bought a 300 BPS modem — a system so slow, Randall said, that the user could read text faster than it came to the screen), bought a new database system called "Alpha 2" and struck an agreement with the owners of Videotext — which would later become Delphi — for an online bulletin board system running software that allowed users to dial into the system over a phone line.
By partnering with Delphi and using its own dual floppy disk drive computer, BCE could post its database of products on a public access system.
On March 4, 1983, Randall and Hall got a call from a buyer in Santiago, Chile, and they subsequently made their first "on line" transaction.
"He was looking at the database online," Randall said. "He saw something that would be good to own. He phoned me he wanted to buy the system."
The caller purchased an IBM PC for $7,000, Randall said.
Randall and Hall later wrote an instruction book for creating a freestanding computer trading enterprise in any city.
The couple sold BCE in 1990 and moved to the Virgin Islands in the mid-1990s. He became a professor of communications at the University of the Virgin Islands.
Hall died of cancer in 1998.
"Cameron was a brilliant economist," Randall said. "She was very smart about money, and how marketplaces worked in the abstract."
Date Debate
The actual birthdate of e-commerce is not undisputed.
When told that e-commerce had just turned 25, Gordon Haff, principal IT advisor for Illuminata, paused.
"My initial reaction is that it's an interesting date to pick but also somewhat an arbitrary one," he told the E-Commerce Times. "People have ordered stuff, if you would, via e-mail, certainly long before 25 years ago."
However, the genesis of e-commerce, as the world has come to know it, probably is a lot more recent than 1983, Haff added.
"I wouldn't say 'e-commerce,' if you think about it, really was anything approaching mass market until the Web era," he said. "I'd say we really had mass market closer to 10 years than 25. But, sure, you can find early examples."
Those early examples were important, Randall insisted.
"Our original concept was to build databases that could be infinitely expanded for any product," he explained. "It's utterly incredible. We were uploading data at 350 bits per second then, and now we have people buying things from eBay and Amazon on a click of a mouse without even thinking. It's astonishing how far we've gone."
Gartner analyst Avivah Litan shared that enthusiasm.
"I was thinking yesterday about an interview I had with Bill Gates before Windows came out," she told the E-Commerce Times. "I asked him what was in the future, and he said, 'graphics.' Back in the beginning, the interfaces were kind of kludgy, awkward, kind of heavy and hard to use."
For Better or Worse
As much as e-commerce has matured, it's still mostly potential, Litan noted.
"It's still only around 10 percent or less of all sales in the U.S.," she pointed out. "At some point, it will probably get 20 to 25 percent. But at this point, more people use it to window shop than actually make a purchase."
The explosive growth in e-commerce hasn't been all good, Litan added.
"We saw the crooks come in, which is what I follow the closest now," she said. "It's not as safe as it used to be."
Whatever its roots are, e-commerce has matured into a major business category, said Scott Kessler, an equity analyst at Standard & Poor's.
"Clearly, e-commerce has gone from kind of a glimmer in someone's eye to arguably one of the most important and powerful developments, I'd say, in modern-day commerce," Kessler told the E-Commerce Times. "It has become not just popular or pervasive, but also critical for both companies and consumers as they look for goods online and, in many cases, are often selling goods online."
Randall said he was content to let others apply their own ingenuity to what he and Hall began in their living room.
"I feel like the guy who invented the Stanley Steamer," he said. "It didn't end up as the model used in the automobile industry, but it played a part."