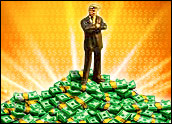 What's left to do after you've earned your first billion in the technology business?
For some, it's legacy building — finding a way to make a mark of a different sort in the world.
Philanthropy calls.
The Bill & Melinda Gates Foundation is perhaps the archetype with its multipronged worldwide operations focused on eliminating poverty, disease and hunger. The Seattle-based foundation, which in 2006 received Berskshire Hathaway stock worth about $31 billion, estimates it will be giving away $3.2 billion a year by 2009.
"The Gates Foundation sure gets a lot of ink — in part because of its sheer size and the addition of funding from Warren Buffett — as do Paul Allen's eccentric post-Microsoft activities and charities," Charles King, principal analyst with Pund-IT, told the E-Commerce Times. "I mean — come on, who wouldn't want to be remembered as the founder of the Jimi Hendrix museum — the Experience Music Project?"
Allen, cofounder of Microsoft, launched the precursor to the Paul G. Allen Family Foundation in 1988.
Consolidated from six separate units in 2004, it funds nonprofit organizations located primarily in the Pacific Northwest. Organizations that received grants generally fall into the arts/culture, community development/social change and youth categories.
Dell chairman and chief executive officer Michael Dell established the Michael & Susan Dell Foundation in 1999, primarily motivated by "their passion for supporting children's causes as a way to make an even greater difference in a measurable way," particularly for kids living in poverty.
The Austin, Texas-based foundation initially focused on children's education and health issues in central Texas, but it since has gone global.
An IT Tradition
Technology-related fortunes and philanthropy have a long history, noted King.
"Bill Hewlett and David Packard both created family foundations that are still going strong," he said, "and have sparked some controversies over the years — mainly due to their support of family planning and birth control."
What about Steve Jobs?
The Apple kingpin, who had a short run with a foundation in the late 1980s, is something of an enigma.
"Many have tried to guilt Steve Jobs into being a philanthropist, but he just won't go," Rob Enderle, principal analyst with the Enderle Group, told the E-Commerce Times. "[He's] not that kind of person, really," he remarked.
"If he is doing any charitable work, he and Apple aren't talking about it," echoed King.
Search giant Google, now 10 years old, formed Google.org to unite the company's philanthropic efforts in poverty, health, energy and environmental issues. Company cofounders Larry Page and Sergey Brin got the project going in 2004 by pushing a plan to shareholders to commit resources, a share of profits and employee time to deal with issues they though to be the most serious challenges for society.
Energy seems to be of particular interest to Google, which said a year ago that it was throwing tens of millions of dollars behind an effort to find cheaper ways of producing electricity from renewable sources such as solar and wind energy.
The goal is to cut the cost of solar energy by as much as 50 percent, according to Page, who noted that success in the endeavor could turn electricity into profits for Google.
"If we meet this goal, and large-scale renewable deployments are cheaper than coal, the world will have the option to meet a substantial portion of electricity needs from renewable sources and significantly reduce carbon emissions," he said. "We expect this would be a good business for us as well."
Some tech leaders-turned-philanthropists play active roles in their charitable enterprises.
Tom Siebel, who built a market-leading customer relationship management software company that generated $2 billion in sales each year before merging with Oracle in 2006, launched his Siebel Foundation in 1996 to focus on several areas — perhaps most notably, fighting methamphetamine abuse.
Siebel is more than a benefactor; he's very much hands-on, said Chris Rose, the Meth Project'sexecutive director.
"To this day, Tom Siebel continues to be active in all aspects of the Meth Project's operations," Rose told the E-Commerce Times. "Beyond the extraordinary financial support in founding the project and continuing to invest in the development of new messaging, Tom Siebel has been instrumental in changing national public policy and in the development of large-scale community action projects, such as Paint the State in Montana."
Focus on Aging
Oracle cofounder, Larry Ellison, has launched the Ellison Medical Foundation, which funnels resources into aging research.
Ellison has shown consistent commitment to the foundation's research efforts, said Richard L. Sprott, executive director of the Bethesda, Md.-based foundation.
"He sets an overall tone," Sprott told the E-Commerce Times.
In general, Ellison doesn't participate in decisions about individual grants, but he does provide input, Sprott said.
"He did [particpate in grant decisions] the first time, which was important because it did set a tone," Sprott said. "We were intending in 1998 to give senior scholar awards — roughly $1 million to younger beginning scientists. Our intent was to do 10."
A committee looked at the applications and had a tough time whittling the number to 10, Sprott recalled.
"First Larry proposed a voting scheme that would separate them; we said we wanted to make the decision not on math but on the science," Sprott said. "Larry just said, 'Fund them all.' Problem solved. That set a tone."
Today, the foundation aims to fund 25 of those awards each year, but it often goes over that number.
"If we only get 23 that look supportable at that level, we'd support them; if there are 25 or 27, we'll support them," Sprott explained. "Larry seems comfortable with that."
Motives and Methods
So, what does all this involvement say about the top names in tech?
The answer to that question is elusive.
"First of all the rich are as varied as the rest of us," Jack Gold, principal analyst with J. Gold Associates, told the E-Commerce Times. "Some are very conscious of helping the world around them; some are not. It's probably a social/religious/philosophical issue with them."
Some benefactors make a public show of their generosity; others don't, Gold noted.
"Many people choose to help out anonymously," he said. "They don't want people to thank them for what they are doing; they just want to help out. No need for the glory. Others, however, do want to get the thanks and accolades. So, its tough to know exactly how the rich will act."
Most get their families involved in distributing their charitable donations, which is another path to giving, Gold said.
"Bottom line is, it's a highly varied world out there," he said, "and the rich are just as complex as the rest of us poor folks."