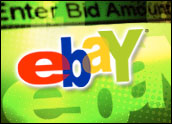 Things are changing at eBay.
eBay says it is evolving to adapt to changes in the larger market, but it's not clear how the auction giant will fare against an emerging army of specialized competitors, and it's far from clear whether sellers will warm to its new internal price structure.
Change, it is said, starts at the top, and so it is with eBay. In March, Meg Whitman ended a 10-year stint as president and chief executive officer, and John Donahoe, who had headed up eBay's Marketplaces segment for three years, stepped in.
Other changes, announced almost simultaneously with the news that Whitman was stepping aside, ensued. Perhaps the most striking was eBay's decision to cut the listing fees to sellers while hiking its final-value charges — the cuts it takes from final sales.
The site also announced discounts for big-volume sellers and tweaked its feedback platform.
Bold Changes
Changing the fee system is probably the boldest move eBay has made, company spokesperson Usher Lieberman told the E-Commerce Times. "We've restructured to a fixed price and moved to a flat fee for listing items, regardless of the quantity of what you're selling."
Under the old system, sellers paid a fee for each item listed; under changes taking effect Sept. 16, there will be one listing fee, regardless of the number of items available, Lieberman said.
"Let's say you're selling socks; if you listed one package of them — let's say it would be 35 (US) cents per package. If you had 100, to list all of them would have cost $35. We've changed that, so instead of listing all of them separately, you list them all together, so it costs 35 cents for all of them."
That's a big edge for the seller, Lieberman said. "There's an economic advantage to putting all your identical items in a single listing."
Buyers gain, too, he noted, because a search for an item will pull up more sellers.
The company anticipates positive results from that change.
"We've talked with [sellers] extensively; we tend to do that with everything we do," said Lieberman. "We have feedback forums — our voices group, which is a collection of buyers and sellers. We gather their feedback through quantitative and qualitative research."
By restructuring its fees, eBay is likely attempting to ratchet up its competitiveness with Amazon.com, which has no listing fees.
"I haven't noticed any reactions from the fee changes at eBay," Michael Souers, a Standard & Poors analyst who tracks Amazon, told the E-Commerce Times. "Not to say there won't be a reaction. Amazon has dominated that area for awhile. eBay's fees are pretty cheap now for low-priced goods. Obviously, Amazon doesn't charge a listing fee, but it does have a higher commission."
Game Changer?
Cutting its listing fees was a positive step for eBay, Souers said.
"eBay in the past kind of alienated customers because of higher listing fees," he said. "This is a way to extend the olive branch and get them back."
In July 2008, eBay allowed retail site Buy.com to list millions of items on eBay without without charging a listing fee.
There could be a price war brewing, Souers noted. "I wouldn't be surprised if Amazon lowers its commissions."
Despite the changes, eBay maintains it is not straying too far from the formula it introduced in 1995 as the first major online auction site.
"We're the world's largest marketplace, and our goal is to remain the most competitive marketplace in the world," said eBay's Lieberman.
Nevertheless, the company has seen its stock price shrivel by nearly 24.5 percent in the last year.
eBay shares peaked, year-on-year, at $40.73 Oct. 11 on the Nasdaq stock exchange. Other than a mild rally to near $33 in April, shares have trended generally downward since last fall. They closed at $23.48 on Monday.
The company has heard criticism that a move toward large-volume sellers led it away from its original core customers.
"I don't know that that's a solid premise," Lieberman countered. "We are about helping all of our sellers, regardless of size."
Praise for the Moves
eBay's new strategy is sound, Charles King, principal analyst with Pund-IT, told the E-Commerce Times.
"I think you could liken it in military terms to the company going after what might be described as 'high-value targets,'" King said.
"With a company like eBay — that earns its bread and butter on a percentage of the sale price — it makes a great deal more sense for them to work closely with larger, more organized e-tailers that are selling a higher-priced or larger-volume product, than [with] mom-and-pop shops that are selling at a lower price or half a dozen items at a time," he explained. "It makes good sense."
Still, there are risks, King noted.
"The danger they run or the challenge they face is that for all of the benefits that they can accrue by working with those larger or better-organized or professional retailers, [they] run the risk of alienating the mom-and-pop shops that have given the company its traditional strength," King said.
It's important that eBay not abandon the client base that proved so valuable in earlier years, King added.
"What's interesting is, when eBay first hit the Web, they had come up with a model that solved a lot of the inherent problems of how small retailers — or even what you'd call 'hobbyist' retailers — could get out and be seen by a larger audience," King said. "The addition of PayPal gave them a very recognizable and workable payment system. It's been a terrific service for a long time."
Change Was Necessary
Some changes have been needed at eBay, whose platform has been getting somewhat long in the tooth, said Scott Cleland, president of Washington, D.C.-based Precursor.
"eBay set out to be the world's auction marketplace and fully and wildly succeeded," Cleland told the E-Commerce Times. "They got a 95 percent share of the world online market. So, that initial strategy was a grand plan. However, they've had a ceiling with the growth for that model. They're suffering from their almost complete success. So, they bumped up against growth headroom."
A new market has emerged, meanwhile, "that's bigger and has more growth potential," he said. "So, they're basically going to continue to dominate their current auction market but are pivoting to gain growth from the kind of large growth potential of moving toward fixed-price sales."
eBay's control of PayPal is "a natural strategic lever point and asset in going after the fixed-price model," Cleland said. "They've got a great advantage with PayPal and great potential in the market they're trying to target."
What of competitors like Amazon.com?
"There's plenty of room in that part of the market for Amazon and eBay," Cleland said.