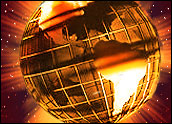 The virtual world of the Internet has become a hotbed of activity designed to ease the real-world pollution problem.
The Chicago Climate Exchange, or CCX, is a regulated exchange whose members are committed to cutting their emissions. It is the only cap-and-trade system in North America for six greenhouse gases.
CCX members, who represent a cross-section of the world economy, including government agencies, contract to reduce greenhouse-gas emissions through a voluntary compliance regimen that sets yearly emission targets and brings in third-party auditors for verification that goals are met.
Members who meet or beat the standards can bank — or sell — their surpluses. Those who exceed the targets have to purchase contracts on the exchange. Each contract represents 100 metric tons of CO2 equivalent. Contracts are comprised of 1) exchange allowances, issued to members to match their emission baselines; and 2) offsets, which are determined by qualifying offset projects.
The CCX, which also operates a futures division — the Chicago Climate Futures Exchange — is a sister company to the European Climate Exchange.
Like many exchanges, CCX is an electronic trading platform, which means the Internet is crucial to its operations.
Hundreds of Members
Members number in the hundreds — from major manufacturers such as Ford Motor to chemical giants like DuPont, to numerous municipalities and the state governments of Illinois and New Mexico.
"They're kind of like a stock market, and they also set the rules and protocols, because there's no other entity to do it," Liz Mathern, program specialist with the North Dakota Farmers Union's carbon credit program, told the E-Commerce Times.
The NDFU's Carbon Credit Program has been an exchange member for three years, and the system works, Mathern said.
"We really approach this as a service to farmers and ranchers," she commented. "We think they're very pleased with its success. The farmers union has a long history with co-ops and elevators and other types of ag support, whether it's fuel or whatever sells. This is another way to sell another commodity. They can't deal with thousands of farmers and ranchers, so you have to go through one aggregator."
The concept is still fairly new and may take some time to catch on, said Laura DiDio, principal of Information Tech Intelligence Corp.
"I don't think the market has really coalesced around this," DiDio told the E-Commerce Times. "I don't think a trend is going. It's still very early."
There are two basic markets for carbon offsets right now. "One is the overarching compliance market, like businesses or governments buying these things so they can be in compliance, with a cap, if you will, of CO2 they're allowed to emit," Didio said. "A lot of companies are probably over [the limits]. Going back to 2007, you had about (US)$7 billion worth of carbon offsets purchased in the compliance market. That represents over 2 billion tons of CO2 reduction."
The other market is what DiDio called the "secondary market" of companies "trying to be proactive" about going green.
"So, you find these, whether an individual or charity or government, [are] purchasing on their own, so they're voluntarily reducing greenhouse emissions, whether for cooling costs, transportation or electricity," she said.
Glimpse Into the Future
Though the system is voluntary, it may not stay that way, DiDio said.
"In places like California, a lot of this is mandated," she pointed out. "In Holland, if you're driving during peak times, the government will tax you on how much you're driving. New York City is raising tolls for peak usage hours. So, there's' a movement toward this, but we haven't actually seen the movement coalesce into something that's very tangible yet. It's in the seminal stages."
How long it takes to develop is an unanswered question, particularly during a period of economic recession, Rob Enderle, principal with the Enderle Group, told the E-Commerce Times.
"This is a new area, and while it doesn't appear that difficult, there are significant concerns about its future," Enderle said. "Many have to do with the overall lack of liquidity in all markets, but right now, the economic problems are trumping the ecological ones — and this is an ecological effort."
Organizations like the Chicago Climate Exchange will have challenges, even with a change in leadership in Washington, D.C., that claims to be eco-friendly, Enderle noted.
"Were the incoming administration Republican, I think you could forecast a dim future for this effort in the U.S. Fortunately for the Climate Exchange, it isn't, but this exchange will likely struggle regardless."
Being Internet-based certainly won't hurt its chances, Enderle said. "Like other exchanges, the Internet allows more people to participate, and that increases the number of the trades and the value of credits."
Too Early to Tell
It's too early to judge how effective these organizations are in actually making the planet any cleaner, Enderle noted.
"Undoubtedly, companies will game this, and the overall measure of success isn't economic — it is the survival of the species," he said. "If it doesn't work, it is likely only the surviving cockroaches will report it. Regulating this effectively — but not over-regulating — will be critical to both the success of this exchange and others like it and our survival."
The Chicago Climate Exchange gets passing marks — so far — from Charles King, principal at Pund-IT.
"They're a legally binding trading system with 350-plus members that have agreed to reduce their aggregate carbon emissions 6 percent by 2010," King told the E-Commerce Times. "Their aggregate baseline of 226 million metric tons of CO2 equivalent is about the same as that allotted to the United Kingdom under the EU ETS."
In other words, it's a sizable amount.
Still, there is skepticism about the CCX and operations like it.
"The CCX has a number of detractors who denigrate the value of carbon offsets," King said, "such as the usual suspects of global warming doubters. But critics also include people like Joseph Romm of the Center for American Progress, formerly an official with the Clinton administration, who asks some hard questions about the value of some offsets offered by CCX."
As for profits, the exchange has a ways to go, acknowledged NDFU's Mathern.
"It's not a lot of money right now," she said. "On the CCX, the amount of carbon credits in the U.S. is a few dollars per ton. It's not a huge amount of money — but farmers are businessmen, and it's another revenue stream into their operations."
The NDFU has attracted partners for its initiative, said Mathern.
"The National Farmers Union asked to partner with us, so the North Dakota Farmers Union is the aggregator," she noted, and "we've now contracted 42 states."