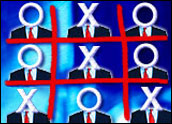 Business networking company LinkedIn has undergone a changing of the guard. CEO Dan Nye is out and has been replaced by LinkedIn founder Reid Hoffman.
Former Yahoo executive Jeff Weiner has joined the company as interim president and will oversee day-to-day operations.
Weiner will report to Hoffman and maintain his current position as executive-in-residence at Silicon Valley venture capital firms Greylock Partners and Accel Partners. Nye will stay on with LinkedIn until mid-January 2009.
The new appointments follow closely on the heels of LinkedIn's hiring earlier this month of Dipchand "Deep" Nishar as vice president of products. Nishar was the executive in charge of Google's mobile search business.
New Blood
Weiner brings a deep rsum to Mountain View, Calif.-based LinkedIn, which has 8 million members. He held key leadership roles at Yahoo, most recently serving as executive vice president of Yahoo's network division, where he had his hand in a variety of products — Yahoo Front Page, Yahoo Mail, Yahoo Search and other Yahoo media services.
Prior to the new appointments, LinkedIn seemed to be on a roll. Under Nye's direction, the company was profitable in 2007 and is expected to be profitable again this year.
Nye was also at the helm when LinkedIn raised $75.7 million in capital from a consortium of blue chip investors — Bain Capital, Sequoia Capital, Bessemer Ventures, Greylock Partners, Goldman Sachs, The McGraw-Hill Companies and SAP Ventures.
All told, LinkedIn has raised more than $100 million in venture capital since its inception.
Reasons for Nye's Exit
LinkedIn was valued at about US$1 billion in the latest round of financing, and Hoffman spoke highly of Nye's accomplishments on Thursday.
"Dan joined LinkedIn with a mission to help us build a company that was strong and sustainable," he said. "In two years, he has succeeded in his objective, transforming LinkedIn from a young startup to a high-growth business. Dan deserves tremendous credit for his contributions to LinkedIn."
Why, then, was Nye replaced?
"It's not entirely clear," Greg Sterling of Sterling Market Intelligence, told the E-Commerce Times. "The public statements were all inconclusive. It could be Nye's vision wasn't consistent with Hoffman's. These kinds of personnel issues are always complex."
Weiner could eventually end up as LinkedIn's CEO, Sterling speculated.
"Weiner has broad consumer Internet experience, having been involved at Yahoo and very involved in Yahoo Search," he said. "He's a dynamic person. It could be that he is the potential CEO to replace Nye, and this is a prelude to all of that."
Challenges Ahead
Though LinkedIn fits loosely into the social networking sector, its heavy focus on business networking sets it apart from more consumer-oriented sites like Facebook, MySpace and Bebo, Alan Chapell, president of Chapell & Associates, told the E-Commerce Times.
"I see LinkedIn as more of a strategic business tool," he said, "where Facebook, MySpace and Bebo are more media communications platforms."
One of the challenges LinkedIn faces is the need to branch out with new services.
"The question is how can they grow revenues," Sterling said. "What kind of services should they add?"
Sterling pointed to a service that LinkedIn launched in late October as a possible hint of what direction the company might take down the road.
The service, called "LinkedIn Surveys," enables researchers and investors to solicit market intelligence from LinkedIn's network of over 30 million professionals worldwide, approximately half of whom are IT and business decision makers, according to the company.
At the same time, LinkedIn may have the potential to tap even deeper into the online advertising market. It has "much more powerful targeted advertising potential than [something] like Facebook," Sterling said.
Too Much Spam?
One of the drawbacks of all social networking sites — LinkedIn included — is the inability to cut down on spam, Chapell said.
"I know many folks who are using LinkedIn mostly as an online Rolodex, but I get lots of messages and myriad requests from my LinkedIn Network," he said. "Like many things in life, some of these messages are more welcome than others."
The limited options around permissions and the resulting clutter created by the myriad messages, updates, announcements and questions could be a problem for a sharply focused business site like LinkedIn, noted Chapell.
"It's time consuming to manage permissions on a one-to-one basis," he said. "De-friending all but my closest friends or business colleagues destroys the point of establishing a social network — not to mention that it can create some awkward situations."