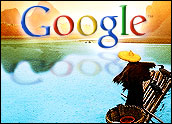 Search engine giant Google has launched a new music search service in China in conjunction with Top100.cn, one of mainland China's top Internet music sites.
The new Google Music Search provides users with links to free, legal music downloads. Google, Top100.cn and several major American record labels will share revenue generated from online advertising.
"Google's mission is to make information from all over the world more accessible and useful," said Kai-Fu Lee, vice president of Google and president of Google China. "The launch of Google Music Search is a part of this mission. Google's vision is to put music at your fingertips with the help of search technology."
Google's music foray represents its latest attempt to challenge China's dominant search engine, Baidu. Just north of 62 percent of all search queries made in China are via Baidu, and music searches are among the most popular.
Google's stock was down 2.9 percent to US$337.59 per share in mid-day trading on Monday.
Music Searches Huge
"Digital music is a really popular service in China, and it's an important piece of Baidu's traffic," said Steve Weinstein, an equity analyst with Pacific Crest Securities. "Without having a good music offering, Google is slightly disadvantaged in that market, so this will help them have a more competitive product in terms of driving traffic."
Google Music Search may not necessarily be a revenue generator, but it will be a traffic generator for Google, Weinstein told the E-Commerce Times.
The announcement, made at a press conference in Beijing, confirmed a rumor that has been around for months, said Colin Gillis, managing director of research at TheStreet.com. "There is no doubt about the fact that it's a very positive move for Google."
Ongoing Struggle
About 28 percent of all Internet searches in China go through Google. Even with the new music search service, Google will likely continue to lag behind Baidu.
"Google is going to have a very hard time getting a dominant position in China," Gillis told the E-Commerce Times. "There is a school of thought that the Chinese government will not let Google have a dominant position in the search market because [the government] wants control over information flow, and due to the overall importance of search to the economy."
However, Google has one advantage over Baidu: the blessing of the American record labels. In China, illegal downloading of music is rampant, and Baidu has even been sued by a consortium of record labels for not doing enough to stop it.
"Google is trying to say that the market wants to download music for free, so why don't we come up with a solution that works?" Gillis said. "It's kind of like the YouTube move: Don't sue us — let's monetize it and capture people's interest."
On the other hand, there is very little standing in the way of Baidu launching a similar service at some point.
"I wouldn't be surprised to see Baidu do something like this," Gillis said. "If they ever needed to move to this model, they certainly could."
As for the revenue split associated with Google Music Search, Gillis estimates that the record labels will garner between 80 percent and 90 percent of all ad dollars generated through the new service.