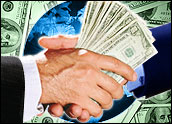 Networking giant Cisco Systems continues its aggressive push into the consumer sector with the acquisition of Flip Video camera maker Pure Digital Technologies for a whopping US$590 million in stock.
"The acquisition of Pure Digital is key to Cisco's strategy to expand our momentum in the media-enabled home and to capture the consumer market transition to visual networking," said Ned Hooper, senior vice president of Cisco's corporate development and consumer groups.
In addition, Cisco will provide up to $15 million in retention-based equity incentives for continuing employees. The deal is expected to close by the fourth quarter of Cisco's fiscal 2009 year.
Pure Digital's Flip Video has sold more than 2 million units. All Flip Video products come equipped with FlipShare, an application that allows users to easily organize and edit videos and then share them instantly on YouTube, MySpace and other popular social networking sites.
Based in San Francisco, Pure Digital is backed by marquee Silicon Valley venture capital firms Sequoia Capital and Benchmark Capital. Disney's Steamboat Ventures is also an investor.
Cisco's stock was down 1.64 percent to $16.22 per share in mid-day trading on Thursday.
Cisco Pushes Into Consumer Space
Given the overall slowdown in Cisco's enterprise networking business, it's no surprise that the company is looking for new markets in the consumer space, said Brent Bracelin, an equity analyst with Pacific Crest Securities.
"Video is a big initiative at Cisco," Bracelin told the E-Commerce Times. "Cisco also has a big initiative to try and expand its consumer footprint. This [acquisition] kills two birds with one stone."
The deal for Pure Digital Technologies also has a potential secondary benefit for Cisco — the more rich media files zipping back and forth over the Internet, the greater the need for networking equipment.
"The extent to which [Cisco] can promote and propagate more video on the Internet will drive the need for more Cisco equipment," Bracelin said. "A Flip Video file is about 100 MBs, or 100 times the file size of photo files."
However, investors should expect the Flip Video line of products to produce lower profit margins at the networking giant, at least compared to Cisco's traditional enterprise business, he noted.
Cisco Already a Consumer Player
If the deal for Pure Digital Technologies goes through, it won't be the first time Cisco has dipped its toes in the consumer market. The company already owns router maker Linksys, which makes devices for home networks, and television set-top box maker Scientific Atlanta.
Pure Digital Technologies fits right in with what Cisco's trying to do in the consumer segment, said Colin Gillis, managing director of research at TheStreet.com.
"Cisco has Linksys, [Scientific Atlanta] and enterprise video conferencing solutions," Gillis told the E-Commerce Times. "Now, all of the sudden, you might see a consumer video communications solution. Cisco has a video capture device that can communicate with a Linksys router, a TV box tied to a screen, and all of a sudden, you're chatting live with your friends on the big screen."
At $590 million, Cisco is paying a lot for a relatively small and young company.
"No doubt about it, it's expensive," Gillis said. "But Cisco has done well with its prior acquisitions. This is the price range of deals that makes sense for Cisco."
Though Cisco's traditional enterprise networking business remains healthy, demand for those products has gradually waned.
"It's not as easy for Cisco to sell its switches and routers as it used to be because there is already a certain degree of capacity on the Internet today," Gillis observed. "What Cisco needs is the volume of data out there to expand exponentially, and that will come in the form of video and [high-definition] video."