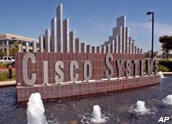 Cisco Systems is adding another layer of intelligence to its network switching products.
The company announced a new software technology on Wednesday, called "EnergyWise," that lets businesses keep an eye on energy consumption by means of wireless devices and Ethernet-connected phones and cameras.
The company plans to roll out new capabilities over the next year, including the ability to monitor, measure and control power consumption of PCs and printers, as well as heating, air conditioning and ventilation systems.
The announcement comes at a time when many businesses are trying to cut costs any way they can due to the year-long U.S. recession. At the same time, a rise in environmental consciousness has spurred many companies to shrink their carbon footprint.
Cisco's stock was up .9 percent to US$16.88 per share in late-day trading on Wednesday.
IT's Power Appetite
EnergyWise supports currently deployed Cisco switch products and new switches that will be available in February.
"IT is a significant consumer of power — about 25 percent of power at your typical office buildings," Scott Lennartz, manager of product marketing at Cisco, told the E-Commerce Times.
Heating, ventilation, air conditioning (HVAC), lighting and security systems account for the remainder of the power consumed at most office buildings, and Cisco plans to have EnergyWise integrated into new switches that can measure and monitor those systems by 2010, he said.
Richards-Zeta Acquisition
Cisco also announced Wednesday that it has acquired Richards-Zeta Building Intelligence. Terms of the deal were not disclosed.
Based in Santa Barbara, Calif., Richards-Zeta makes software that enables different office and building systems technologies to communicate with one another.
"This mediator allows you to connect the disparate networks throughout the building world," Lennartz said. "It's a challenge in the building world, because so many different standards are used."
Cisco customers can obtain EnergyWise through a free software upgrade.
Not Just a Commodity
One of the challenges facing the networking industry is the increased commoditization of switches and routers. EnergyWise is designed to combat that trend.
"A lot of people have said for a long time that the network has become a commodity and that the network is just a big pipe," Zeus Kerravala, a Yankee Group analyst, told the E-Commerce Times. "By connecting things more and adding a layer of intelligence, you're keeping that from happening."
By automating things as simple as turning off PCs and HVAC systems, companies can save a lot of money, he said.
"You can envision an environment where a worker comes in in the morning and swipes their badge," Kerravala said. "That turns on their desk telephone, the AC in their office and their PC. And then all that goes off when they badge out. I think it's one of the cooler networking announcements I've seen in a while."
May Drive Upgrades
Many Cisco customers today still run switches and routers that were installed nearly a decade ago.
Cisco is hoping that EnergyWise will give those customers an extra incentive to upgrade to newer Cisco technologies, Kerravala said.