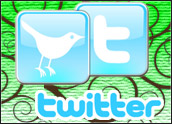 Social networking startup Twitter has announced its intention to start making money through the introduction of premium business accounts sometime this year.
The San Francisco-based company provides users with a free service that lets them post 140-character notifications, or "tweets."
Unique visitors to Twitter increased 1,382 percent, year-over-year, from 475,000 unique visitors in February 2008 to 7 million in February 2009, making it the fastest-growing site in the member communities category for the month, according to Nielsen Online. Zimbio and Facebook followed, growing 240 percent and 228 percent, respectively.
Since its inception three years ago, Twitter has kept its plans to itself, saying only that its top priority was to build a good service and a wide user base. Now, it appears that it's looking to monetize its fast-growing Web traffic.
Twitter could not be reached for comment.
Use It or Lose It
"If [Twitter doesn't] monetize [its user base] now, it runs the risk of yielding the high ground to someone who will — like Facebook," said Carl Howe, an analyst at the Yankee Group. "There's no reason why Facebook couldn't develop a 140-charcter push notification service for its customers."
Indeed, synchronization between the two sites is already taking place. Howe said he uses an application on Facebook that syncs his notifications on Twitter and Facebook.
"I use the Facebook tool mostly because I don't want to bother updating two sites," he told the E-Commerce Times. "For consumers, there's a real possibility of social networking fatigue — especially with multiple social networks. Most people want to have a personal and a business social network, but they don't want to have five."
Business Services
It's not yet clear what Twitter's business services will look like or what they'll cost, and the company isn't talking.
What's important is that Twitter stick with what has worked thus far — the simplicity of its service.
"I would bet they won't break the [140-character] limit," Howe said. "It's their fundamental differentiator in the market. As soon as you make somebody spend extra time doing something more, [Twitter becomes] just like everybody else."
Twitter might offer businesses more search and networking capabilities, Howe speculated, or enable businesses to use different colors and fonts so they can post their corporate logos and official brands with each tweet.
"It's not going to be hugely different from the normal Twitter accounts, but it may be brand reinforcing," he said.
Another possibility is that Twitter will start charging businesses to get in touch with Twitter members.
"Instead of being able to blast people for free, the marketer now has to pay for that and become a partner of Twitter," said Emily Riley, an analyst at Forrester Research. "Today, advertisers don't have to go through Twitter. They just sign up and do whatever they want."
No Longer Commercial-Free
For the most part, Twitter users don't receive advertising unless they are in a business' network. That could change, however, if Twitter allows advertisers to reach out to new users at some point.
"So far, it's been like watching TV without commercials," Riley told the E-Commerce Times. "Twitter isn't making any money, though. At the same time, it doesn't want to charge its users. So, there will probably be a little bit of increase in the annoyance factor."
Twitter is backed by a host of marquee venture capital firms.
In February, the company raised US$35 million from Benchmark Capital and Institutional Venture Partners. Twitter has also raised venture capital from Union Square Capital and Spark Capital.
Riley speculated that these investors could be putting pressure on Twitter to prove a business model sooner rather than later due to the 15-month U.S. recession.