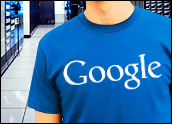 Google is laying off about 200 staff worldwide in its sales and marketing organizations. The announcement was made in a blog post written by Omid Kordestani, the online search giant's senior vice president of global sales and business development.
In his post, Kordestani said Google's rapid growth led it to create overlapping organizations in some areas which duplicate effort and complicate the decision-making process. "That makes our teams less effective and efficient than they should be," he said.
Google has also over-invested in some areas in preparing for the growth trends it was experiencing at the time, Kordestani said.
Those laid off will be given time to seek another job at Google. The company will also provide outplacement support and severance packages for those who have to leave.
Google had not responded to requests for comment by press time.
'Not Even a Drop in the Bucket'
Although this is the third time Google has laid off people since January — it trimmed a total of 140 people in the previous two layoffs, many of whom were part-timers or contract workers — analysts dismissed the move as nothing special.
"Look, 200 people out of nearly 21,000 is not even a drop in the bucket," Colin Gillis, director of research at TheStreet.com, told the E-Commerce Times. "This is not any type of cost reduction, it's just a mild realignment. Any good company has a constant pruning process and is always culling the bottom 5 or 10 percent of staff."
That attitude was shared by Signal Hill Capital analyst Todd Greenwald. "Google is still unbelievably profitable," he told the E-Commerce Times. The problem, he said, is that the overall economy is struggling.
Doing Better Than the Rest
In fact, compared to most other high-tech companies, Google is doing pretty well. IBM is reported to be laying off about 5,000 people; Intel will trim its head count by between 5,000 and 6,000; Microsoft will reduce its workforce by about 5,000 over the next 18 months, and Sprint will lay off 8,000 people by April.
Competitors like Yahoo and AOL are figuratively eating Google's dust. In December, Yahoo announced that it would trim about 1,400 employees. AOL earlier this month began laying off the 700 people it promised in January to cut from its workforce.
Observers expect more layoffs at AOL, which has hired top-ranking staff from Yahoo and Google in its battle to stay afloat. In February, it hired Yahoo head of global sales Greg Coleman to head up its Platform-A online advertising network. Around mid-March, it grabbed Tim Armstrong, Google's senior vice president of sales and marketing, and made him its chairman and CEO.
Dinged by the Weak Economy
Although it is still way ahead of the competition, Google has not been immune to the ravages of the recession. GAAP (Generally Accepted Accounting Principles) earnings per share for the fourth quarter of 2008 were $1.21 on 317 million diluted shares outstanding, compared to $4.06 on 318 million diluted shares in the third quarter.
Google's share prices have also been hit hard. They fell from $692.87 in January 2008 to $286.68 in December. GAAP net income for Q4 of 2008 was $382 million, compared to the $1.29 billion Google chalked up in Q3 of that year 2008.
In a conference call to discuss Q4 earnings in late January, Google CEO Eric Schmidt told analysts that the upcoming months were uncharted territory.
Too right, Signal Hill Capital Group's Greenwald said. He has put a hold on Google because expectations are too high and the economy as a whole is slow.
Still, Greenwald thinks Google will remain strong. "They could cut a lot more than 200 people," he said. "Would it be positive for operating margins if they do? Yes. Do they have to do it? No, they have 33 percent operating margins."