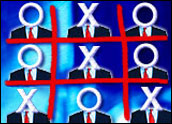 Players in the fragmented and crowded ad platform space just lost a little more elbow room with the entrance of LinkedIn's Audience Network.
Not surprisingly, given its strong reach into business networks in almost every community, LinkedIn is offering up its job-related data to advertisers that seek to place ads targeting categories of professionals.
This strategy is illustrative of a larger trend in this nascent space: the emergence of vertical ad networks focusing on a specific industry, or in the case of LinkedIn, a specific function.
Anonymous Data
"There are definitely a lot of ad networks out there," Kay Luo, a spokesperson for LinkedIn, told the E-Commerce Times. "What we are bringing to the table is a way to provide better targeting through anonymous or non-personally identifiable profile data."
The goal is to enable publishers to serve more relevant ads to readers. The company is leveraging the same technology it is using in its partnership with the New York Times, Luo said.
Under that agreement, which was announced in July, LinkedIn users receive news recommendations relevant to their professional industries on the Business and Technology pages of NYTimes.com. One feature, for instance, highlights the five latest Times articles for LinkedIn members based on profile attributes that are not personally identifiable.
LinkedIn Audience is now using this same profile-based targeting technology for advertisers that wish to reach a certain professional segment — such as energy industry executives or real estate attorneys. Data available includes anything that members choose to share in their LinkedIn profiles, such as company size, industry, profession, gender, geography and seniority.
Advertisers can also target LinkedIn's inCrowds — predefined and scalable audience segments such as corporate executives, small business professionals and IT professionals. Another option allows marketers to define their own custom audience segments.
Member Controls
LinkedIn is giving its members some control over how — or whether — they will participate.
Personally identifiable information will not be shared with publishers or advertisers in any case, and members can opt out of the program if they want to, the company said.